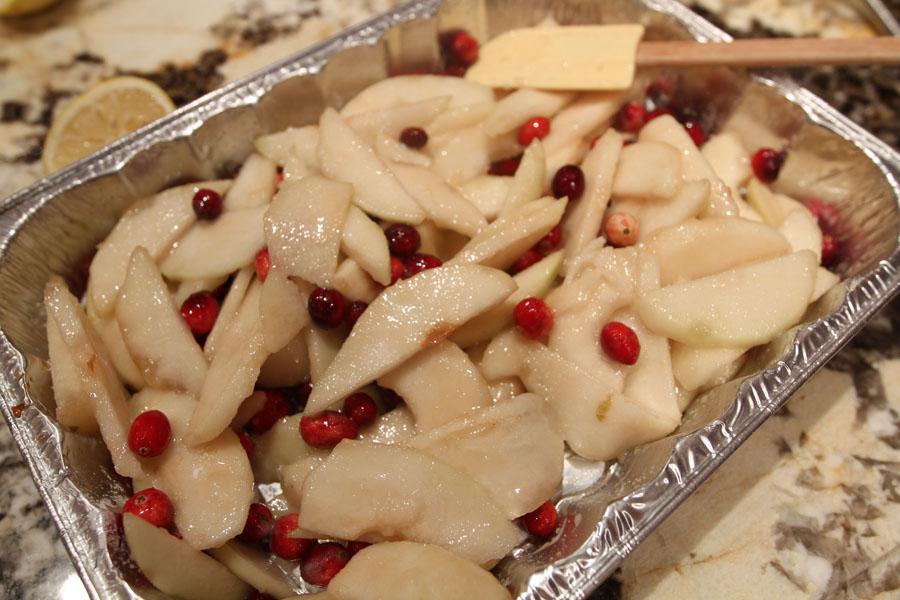 Isn't the best part of fall the food? Cinnamon, ginger, nutmeg. Pumpkin pie, sweet potatoes, stuffing. Hot apple cider!? Well this year for Thanksgiving, my family was assigned the task of bringing desserts, and oh, did we take this seriously. My mom took care of the cranberry biscotti and a pumpkin bundt cake, but I was able to try a new recipe. Here's a wonderfully fall-themed recipe for a pear, cranberry, and gingersnap crumble. It turned out great and tastes even better served warm with vanilla ice-cream. Serve it warm with vanilla ice-cream and you can't go wrong.
Crumble1 cup all-purpose flour1/4 cup granulated sugar3 tablespoons packed dark or light brown sugar1 cup gingersnap crumbs (4 ounces or about 16 storebought cookies)1/8 teaspoon ground ginger1/8 teaspoon table saltPinch of pepper, especially if your gingersnaps aren't particularly snappish1/2 cup (4 ounces or 1 stick) unsalted butter, melted and cooled
Filling2 pounds (about 4 to 5) large ripe pears (We used Anjou, suggested in the original recipe) peeled, halved, cored and sliced 1/4 inch thick1 1/2 cups (6 ounces) fresh cranberries1 tablespoon lemon juice1/2 teaspoon finely grated lemon zest1/2 teaspoon vanilla extract1/2 cup granulated sugar2 tablespoons cornstarch
Preheat the oven to 350°F.
Stir together the flour, granulated sugar, brown sugar, gingersnap crumbs, ginger and salt. Stir in the melted butter until large crumbs form.In a 1 1/2 to 2 quart baking dish, mix the pears, cranberries, lemon juice, lemon zest and vanilla. In a small bowl, whisk the sugar and cornstarch together then toss it with the fruit mixture in the pan.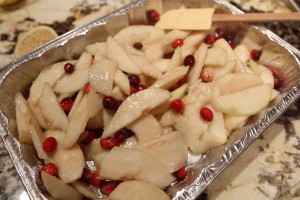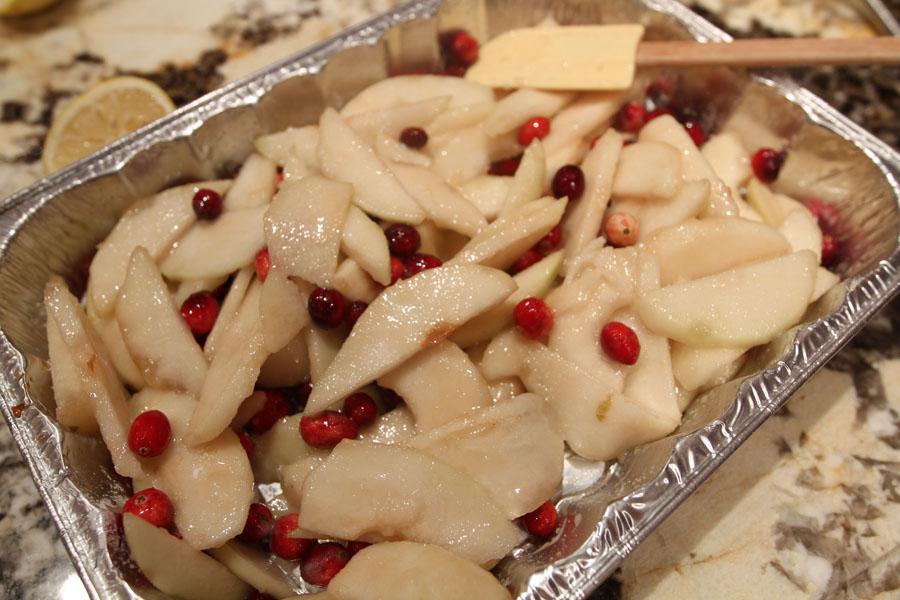 Sprinkle the gingersnap crumble over the fruit. Set the crumble on a foil-lined baking sheet (in case it bubbles over) and bake it for about 45 minutes, until the crumble is a shade darker and you see juices bubbling through the crumbs. See how long you can wait before digging in.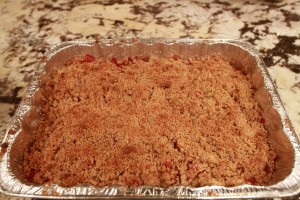 Original Recipe (http://smittenkitchen.com/blog/2011/10/pear-cranberry-and-gingersnap-crumble/)