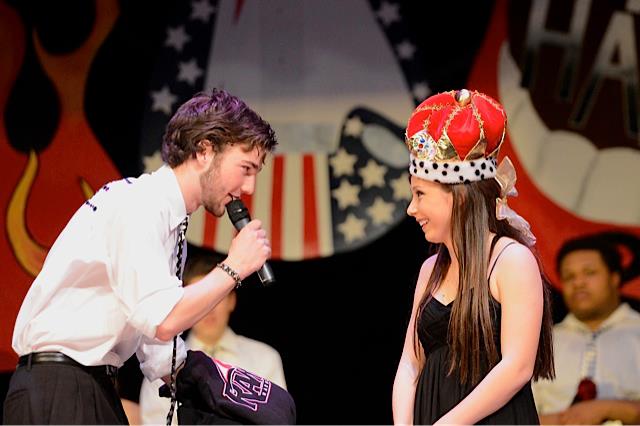 This past Friday, Harriton Student Council hosted the annual Mr. Harriton. Often regarded as one of the most popular events at Harriton, the show attracted hundreds of viewers, all anxiously excited to watch ten junior and senior boys compete for the coveted title of Mr. Harriton. School President Dhruv Pillai and Vice President Julia Geftman hosted the much-anticipated show.
This year, the theme of the show was "Rock and Roll", giving contenders a chance to sing and dance to renowned rock and roll legends such as Prince and the Rolling Stones. The contestants this year included juniors Max Meyers, Ben Brodo, Walden Pemantle, and Andrew Frederick, as well as seniors Michael Maj, Drew Soloff, Dan Rapuano, Jake Marks, Sean Green, and Eric Dannenbaum.
As effortlessly as the boys danced, the journey of Mr. Harriton started months ago, when hopeful contestants auditioned for a spot in the show. Those chosen dedicated long hours to make the show as exciting and entertaining as it was. They attended daily practices, as well as occasional weekend rehearsals, where they learned extensive dances choreographed by Natalie Wasserman, Julia Geftman, and Caroline Dooney. The contestants even took time to read to 2nd graders at Gladwyne Elementary, as well as travel downtown to film their introductory video at the Hard Rock Café.
As the audience saw on Friday, this dedication was absolutely worth it. Appropriately dressed in their Mr. Harriton T-Shirts, these boys kicked off the show by wowing audience members with a lengthy medley of Rock and Roll classics. As the number ended, they circled around Brendan Scanlon, the reigning Mr. Harriton, while dancing to Queen's "We Will Rock You".
Next, the talent portion of the competition commenced.  Each contestant had the chance to perform anything of their choosing alone on stage. Talents included singing and beat boxing to various songs, an English, Spanish, and Latin rap, and even a musical medley on a homemade instrument, what can only be described as Walden Pemantle's "Dark Side of the Tubes". For a few moments, the audience also witnessed Max Meyers take on the role of a magician, while Drew Soloff starred as the puppet in his own puppet show.
The escorts also joined their contestants on stage for musical numbers to the songs, "Walk this Way" by Soul Train, "Old Time Rock and Roll" by Bob Seger, and "Twist and Shout" by The Beatles.
Finally, contestants walked out one by one, shared a pick-up line with their escort, and prepared for the much-anticipated question and answer session, hosted by Michael Kontra, Sergeant at Arms. While they had been informed of the possible questions beforehand, no one knew exactly what they'd be asked until it was their turn. This was each contestant's last chance to astound the judges.
After the final question was answered by a modest Andrew Frederick, claiming that in 10 years he'd be polishing his Mr. Harriton crown, it was time to announce the new Mr. Harriton. Jake Marks had won the coveted title, with Sean Green and Walden Pemantle following in second and third place respectively.
Overall, Mr. Harriton turned out to be an extremely entertaining show for the audience as well as the participants. Walden Pemantle reflects on his newfound dance moves, saying, "It was an amazing experience. By the night of the show nobody even cared about the competition aspect. We all just wanted to dance and see everyone's talents go off better than ever, which I think is really awesome."
Not to go unnoticed, the show was unprecedentedly sold out! Spectators were even turned away; every seat was full! The money raised by these tickets, and the money donated in contestant's buckets during intermission, also exceeded any previous record of money collected, amounting to over $13,500! All proceeds will be donated to the Lower Merion Scholarship Fund, the Luekemia Lymphoma Society, and the Cookie Grant.
Thank you to Student Council and all those who participated in making this one of the best Mr. Harriton shows yet. Long live Rock n' Roll!