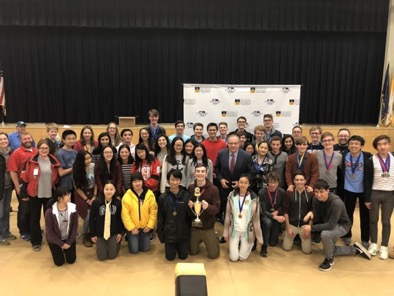 The Harriton Science Olympiad team came home this Wednesday with a first place achievement at its regionals competition held at Neumann University.
The regionals competition is the first official competition of the school year for Science Olympiad Team and determines which teams will qualified for the upcoming states competition in April.
We were able to sit down with two honorary senior members, Thomas McKenzie-Smith and Anthony Zhu, for an exclusive insight into our hard working team!
Harriton Banner: How did you prepare for this competition?
TMS: We have been practicing since September. We take lots of tests, we have underclassmen organize binders, test schedules, or test formations. That goes for the study of the events. For build events, everyone works together to build some structure like the famous mousetrap vehicle.
AZ: In general, we just practiced! We take tests, learn from mistakes from previous invitational events, analyze what we did great and what we did not-so-great, and improve from there.
HB: What was the biggest challenge faced at the competition? What can you improve on? What went well?
TMS: We didn't medal in two of the twenty-three events. We could work on those events, which are Experimental Design and Write-It-Do-It. We medaled in twenty-one, and that's pretty good! The vast majority of our placements were first and second.
AZ: One of the biggest challenges was that even though we had competed with these schools for a while, there are still nerves. We also had a short turn-around period from our last competition at SOUP, so the adjustment was somewhat rushed.
HB: SciOly is mainly a student-run club and one of the most prominent ones at Harriton. How do members use this freedom to the team's advantage?  
TMS, AZ: We practice until 5:30 everyday. Each of these events is supervised by the coach but organized and carried out by the students. This means that the people that are running it are also the ones that are doing it – this creates accountability.
HB: What is currently at the top of the "to-do" list in SciOly right now?
TMS, AZ: Get better at the events at the ones we didn't medal in. And for the events that we did medal in, improve there as well and never get cocky. There are two months until States, so we need to maintain endurance. The last thing we want is tiring ourselves out before this important event.
HB: What is SciOly team's main goal for this school year? How will you achieve it?
TMS, AZ: Win nationals! Hard work and team work can get us there.
Below are the results of the regionals competition held on February 28th: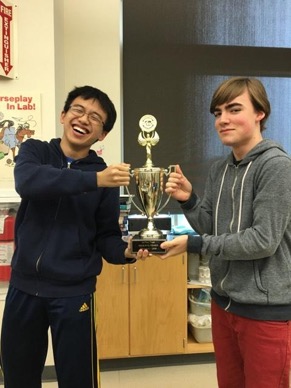 Gold Medals:
Astronomy: Thomas McKenzie-Smith, Ashwini Shende
Forensics: Anthony Zhu, Monali Zhao
Optics: Thomas McKenzie-Smith, Avery Parr
Disease Detectives: Ashwini Shende, Sam Weissman
Hovercraft: Alex Alber, Tom Devlin
Material Science: Thomas McKenzie-Smith, Avery Parr
Helicopters: Allison Zhang, Liam Rodgers
Thermodynamics: Anthony Zhu, Sam Weissman
Mission Possible: Tom Devlin, Andrew Hodge
Dynamic Planet: Robert Chen, Patrick McCann
Mousetrap Vehicle: Ben Wolfe, Tom Devlin
Ecology: Robert Chen, Patrick McCann
Remote Sensing: Thomas McKenzie-Smith, James Powell
Silver Medals:
Game On: Tom Devlin, James Powell
Microbe Mission: Robert Chen, Sam Weissman
Rocks & Minerals: Richard Haslam, Sunme Zhao
Anatomy: Avery Parr, Sam Weissman
Herpetology: Richard Haslam, Ashwini Shende
Chemistry Lab: Avery Parr, Hannah Klatte
4th Place Medals:
Tower Building: Hannah Klatte, Saini Ye
Fermi Questions: Thomas McKenzie-Smith, James Powell