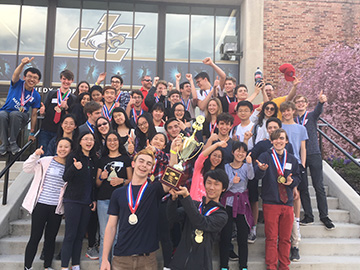 This past weekend the Harriton Science Olympiad team competed in the Pennsylvania Science Olympiad team and was crowned PA state champions earning them a bid to the National Science Olympiad at Colorado State University May 18-19.
Coach Brian Gauvin explained that Pennsylvania sends two schools to the national tournament and that Lower Merion High School, which came in 2nd place, will also be heading to Colorado for the national championship.  This unique situation has happened once before in 2003.
Harriton has earned its  4th consecutive state championship, and the students involved with the team are as talented and dedicated as any team of the past.
"They are truly the product of an outstanding educational environment in Lower Merion," Coach Gauvin added.
Although only some of the students on the state championship team get to compete at a national tournament, this success is the combined effort of everyone that makes Harriton such a formidable opponent.
A team list of the individual event medalists is below.
Coaches: Mr. Gauvin; Ms. Lesch; Mr. Powers; Mr. MacNichol
Gold Medals
Astronomy
Tom McKenzie-Smith
Ashwini Shende
Chemistry lab
Avery Parr
Hannah Klatte
Ecology
Rob Chen
Pat McCann
Fermi Questions
Tom McKenzie-Smith
James Powell
Forensics
Anthony Zhu
Monali Zhao
Helicopters
Liam Rodgers
John Neary
Allison Zhang
Herpetology
Ashwini Shende
Richard Haslam
Hovercraft
Tom Devlin
Alex Alber
Shangen Lu
Material Science
Tom McKenzie-Smith
Avery Parr
Microbe Mission
Rob Chen
Sam Weissman
Optics
Tom McKenzie-Smith
Avery Parr
Write It Do It
Shangen Lu
James Powell
 Tower Building
 Hannah Klatte
 Alex Ahn
Silver Medals
Anatomy & Physiology
Avery Parr
Sam Weissman
Game On
Tom Devlin
James Powell
Mission Possible
Tom Devlin
Steve Ross
Matt Pearl
Ezra Frank
Mousetrap Vehicle
Tom Devlin
Ben Wolfe
Shangen Lu
Rocks & Minerals
Richard Haslam
Sunme Zhao
Bronze Medals
Experimental Design
Rob Chen
Richard Haslam
Pat McCann
Thermodynamics
Anthony Zhu
Sam Weissman
4th Place Medals
Dynamic Planet
Rob Chen
Pat McCann
5th Place Medals
Disease Detectives
Ashwini Shende
Sam Weissman