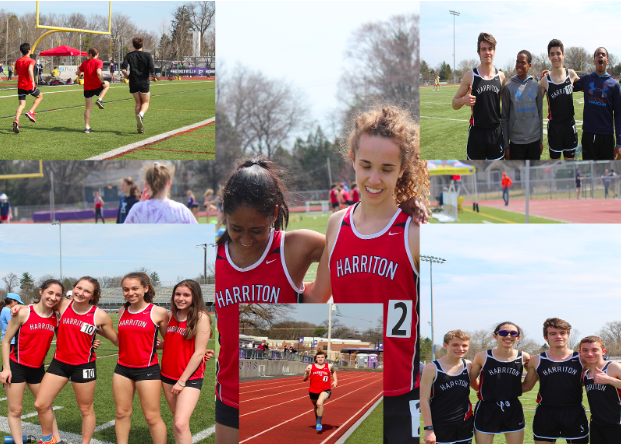 The Harriton Girls and Boys Track and Field team traveled to Phoenixville High School this past weekend (3/29) for the Distance Project, a bi-yearly track invitational for distance runners. Events included the 1600m, 4X1600m, 4X1000m, 4X600m, 3200m, and 800m races. Harriton boys and girls set four new records in the relays and had strong individual finishers in the 1600m and 3200m races.
While distance running may not be the most popular sport at Harriton, it will definitely be more discussed with our runners' recent accomplishments. The team meets every day after school until 5:30pm, and is coached by Mr. Cimino and Mr. Hennessy. Practices consist of grueling workouts and runs to prepare for meets.
The previous record of 12:16 for the boys 4X1000m race was broken by a relay team consisting of senior Kyle Tassone, junior Scott Blender (a staff writer for the Banner), sophomore Nathaneul Benioff, and freshman Bennet Schwartz. Additionally, the boys 4X1600m relay team made up of seniors Aidan Bova and Mason Coburn, junior Sam Kartsonis, and freshman Leo Perlstein crushed the previous record of 20 minutes.
Finally, both the boys and girls relay teams for the 4X600m set school records. The girls team was lead by juniors Kat Berberian and Grace Honeyman, alongside freshman Isabel Prosnitz and Julia Tassone. Meanwhile on the boys side, the relay team was comprised of senior Kyle Tassone, sophomores Aaron and Isaiah Trader, and freshman Leo Perlstein.
Juniors Amelie Lemay (assistant editor at the Banner), Charisma Hasan (editor at the Banner), and Sam Kartsonis all finished strong in their individual events. Placing first in the boys 1600m, Sam Kartsonis finished with an impressive time of 4:43. In the girls 3200m race, Amelie Lemay placed third with a time of 13:19, followed by Charisma Hasan in fifth, who put up an impressive time of 14:18, despite injured shins. Hasan's performance demonstrates the dedication of Harriton's distance runners.
Furthermore, the distance running team demonstrated sportsmanship and leadership as upperclassmen helped out underclassmen, and the team kindly greeted and congratulated other teams on their performances throughout the meet. Above all, teamwork and companionship is what truly leads to success in sports, and the Harriton Distance Team effectively encompassed these ideals during the meet, making it one of the most successful meets for the team.
Distance running is an enduring battle, encompassing both the mind and body. It is both painful and mentally challenging, making it one of the hardest sports to tackle. The achievements of these runners at the meet and the sportsmanship they displayed shows why the team is successful.