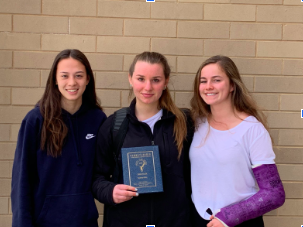 On Sunday, April 7th, Harriton's members of Future Business Leaders of America traveled to Hershey to compete in the state tournament.
Future Business Leaders of America (FBLA) is a national organization consisting of high school students competing in events focused on business, such as Entrepreneurship, Marketing, and Website Design. There are both individual and team events, and these events are classified as either tests or presentations.
Testing events such as Financial Math require that competitors take a test at the regional level in order to compete at the state conference; presentation events such as Impromptu Speaking require that participants present to judges at the regional level before advancing to the state competition.
The number of participants competing at the regional level determines the number of competitors that advance to the state competition. Once at the state tournament, the top four competitors from each event qualify for the National FBLA competition, taking place this summer in Texas.
Harriton sent over 20 competitors to the State Competition this year, under the supervision of club sponsor Mr. Mansor. Throughout the four days that competitors spent in Hershey, not only did they compete in their respective events, but they also attended business workshops led by entrepreneurs and were even offered the opportunity to go to Hershey Chocolate World.
Ultimately, the trip was deemed a success due to the impressive performances of many of Harriton's competitors. The team of Jason Dichter, Brad Garber, and Jake Littman placed in the top 10 in Management Information Systems, especially impressive given all three competitors were freshmen.
Additionally, 3 students even qualified to compete at the National level, as the team of Katie Grogan (senior), Melanie Sporn (junior and Banner editor), and Goldie Beck (sophomore and Banner editor) placed 3rd in the state for their event, Business Ethics.
Congratulations to all members of Harriton FBLA and good luck to Katie, Melanie, and Goldie as they travel to Texas to compete at the national level!