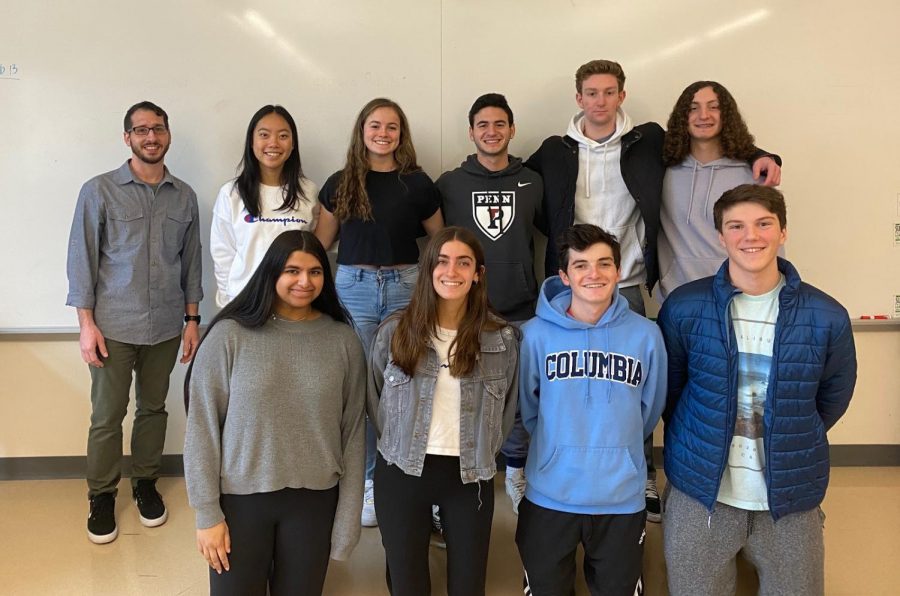 On December 3rd-5th, 2019, Harriton FBLA, or Future Business Leaders of America, participated in the Regional competition at Harriton and North Penn High School. Harriton's team left regionals with numerous victories and more than 20 members qualifying for this year's state competition in Hershey, Pennsylvania.
The regional competitive events ranged from broadcast journalism to sales presentations. Members competing in group or individual tests met after school in the LGI on Monday, December 3rd, for an hour-long test, while competitors in the presentational events attended North Penn High School on December 5th, performing in front of judges all morning. 
Among the qualifiers for the State competition were sophomores Lucas Glozman, who placed first in the Future Business Leader category, Eli Feldman, who placed first in Introduction To Public Speaking, Korgan Atillasoy, who placed first in Securities and Investments, and Owen Lester, who placed second in Economics. 
The following juniors also advanced to States: the teams of Sam Belcher, Seth Feingold, and Sam Finkelstein, who placed fourth in their Banking and Financial Systems test, Goldie Beck and Jade Zhu, who placed first in Marketing, Sophie Weinstein, who placed fourth in Advertisement, and partners Evan Zales and Neha Dhanwada, who placed first in Graphic Design.
 In addition to these qualifiers were the following sophomore teams: Ryan Carlin, Daniel Katz, and Ben Fisher, who placed third in Hospitality Management, Avi Pedowitz, Owen Short, and Eric Yoon, who placed third in Management Information Systems, and Jason Dichter, Jake Littman, and Brad Garber, who placed third in Management Decision Making. 
The following members also participated at regionals: freshman Catherine Yuan, who placed seventh in Business Calculations, sophomore PJ Carr, who placed eighth in Advertising, freshman Thomas Gallagher, who placed eighth in Entrepreneurship, and senior Maxwell Fellheimer, who placed third in the Job Interview presentation.
With a team of regional winners, the Harriton FBLA officers are looking forward to more success at the State Competition, all agreeing, "our team worked and studied diligently prior to the month of December. We can't wait for all of this hard work to pay off at States!" 
The team's chapter advisor, Mr. Mansor, who has been with the club since September of 2018, enjoys coaching FBLA, saying the club "gives students opportunities to pursue recognition in different areas of passion, with options to work together, present, research or create in business or computing topics[…] The networking opportunities and workshop sessions when attending conferences are excellent."
Through academic competitions, leadership development, and educational programs, the goal of Future Business Leaders of America is to help high school students prepare for their future careers in business and in leadership roles. 
This year, the FBLA State competition will occur from April 5th-7th at the Hershey Lodge in Pennsylvania. In their spare time between competitions, FBLA members can visit Hershey's Chocolate World, participate in leadership training and business seminar events in The Hotel Hershey, and meet new people through events like Karaoke night. 
If you are interested in joining Harriton FBLA next year, make sure to attend this year's RAM day or email the officers at [email protected] for more information about the club.
(The writer, Goldie Beck, is co-executive editor of the Banner and also co-president of FBLA)