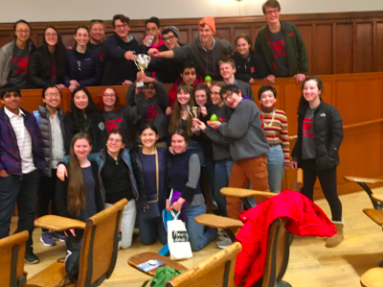 On Saturday, February 29th, Harriton's Certamen chapter competed at the annual competition at Princeton University. Led by Certamen Consul Michael O'Connor and Latin Club President Sunme Zhao, the team returned with several victories. 
Certamen is a Latin and Roman quiz bowl. Teams of up to four compete on topics such as Roman history and life, Greek mythology, Latin translation, English derivatives, and Roman authors and literature. It is a demanding activity that requires not only intense studying and knowledge, but also quick on-your-feet thinking.
Although it may not seem it, teamwork is a critical skill for doing well in Certamen. If a team members can't rely on one another, they won't succeed. 
Seven Harriton teams were entered, distributed among novice, intermediate and advanced levels. Of those teams, all but one qualified for semifinals. In fact, both intermediate teams placed in the finals—bringing home two trophies.
The team that placed first was comprised of grammarian and captain Gabrielle Schwager, historian and mythologist Joseph Challissery, and culturist Violet McShane. The third place team included captain and culturist Alex Aukburg, grammarian Nicholas Biglin, mythologist Camille Seignourel, and historian Kate Messick. In addition, Joseph Challissery, in recognition of his exceptional mastery of classic history, was awarded as an MVP. 
The competition had many rounds, but the final round included twenty questions in which three teams competed for the most points. Towards the end of the round, the Harriton first place intermediate team had established such a lead that their victory was secured. On the other hand, the third place team was neck-and-neck with a non-Harriton team, and would eventually fall one question behind placing second. 
In reflecting on the event, Alex Auckburg commented that this is one of Harriton's finest achievements, being the first time two teams have both placed in the same level simultaneously.
Eli Feldmen confidently proclaimed, "Our team was the greatest team ever created ever. Boston Latin (a rival) and the school from Wisconsin (another competing team) are trippin'. Because of how well we did, we are now the kings of Latin." 
It was overall another great success for Harriton Certamen, continuing their streak of bringing home trophies since last year's Princeton competition. They were preparing for their final tournament of the year, which would've taken place at Harvard, but unfortunately has been cancelled owing to concerns about COVID-19. 
Teams:
Novice: 
Captain and grammarian Hana Boulware, culturist Jadyn Gelfand, mythologist Willa Salmanson, and historian Surya Penna. 
Captain and grammarian Norah Mezey-McMahon, historian Clara Zhu, culturist Allie Hollin, and mythologist Angelina Lee
Captain and grammarian Noah Xu, mythologist Soren Stein, historian Cornelius Nichilo, culturist Eli Feldmen
Intermediate:
1st: Captain and grammarian Gabrielle Schwager, historian and mythologist Joseph Challissery (MVP), culturist Violet McShane
3rd: Captain and culturist Alex Aukburg, grammarian Nicholas Biglin, mythologist Camille Seignourel, historian Kate Messick
Advanced:
Captain and, mythologist Sophie Boulware, grammarian Riley Wexler
Captain and historian Michael O'Connor, literaturist Sunme Zhao, grammarian Patrick McCann, and mythologist Julia Lester