The Ryan King: BREAKING: Boise State Loses a Football Game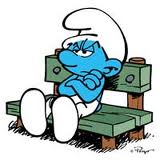 Hang on for a minute...we're trying to find some more stories you might like.
On Saturday, November 12th, it is rumored that the Boise State University football team lost a game to the TCU Horned Frogs. This remains unconfirmed despite the best efforts of Banner reporters.
"I don't get it!" said Science/Tech Editor Holden McGinnis. "It appears that regulation ended with TCU leading by one point, but no one can tell who won!" Past history indicates that almost all collegiate level games have ended with the leading team being declared the winner, but higher logic argues that Boise State may have survived their Saturday night scare.
McGinnis continued: "I ran some numbers and it turns out Boise State has won 100% of their home games the past ten years. Obviously they couldn't have lost today; that would defy logic."
The press swarmed to Broncos coach Chris Petersen after the game looking for some sort of clarity, but Petersen merely stated, "Did you know that if a couple teams in front of us lose, we'll play for the national championship? Boise State! In the national championship! My golly."
Boise's star quarterback Kellen Moore was no more helpful, as he refused to leave midfield asking for the referees to consult the rulebook. "This has never happened before!" said Moore, who has amassed the most wins in NCAA history during his career. "I think we were losing when the clock hit zero. What happens next? Do we go to overtime?"
The issue quickly swept the nation as several analysts shared their opinion on the game. Lee Corso, esteemed head of College Football Live, went into a long-winded sonnet that sang the praises of the Broncos program before declaring TCU the winner. Lou Holtz of ESPN even chipped in, proclaiming, "I think Notre Dame won."
Former Boise State kicker Kyle Brotzman had a different take. "You guys are being really dumb. Obviously we won the game," Brotzman brazenly asserted. "Trust me, when it comes to important games I'm always right."
We sent several Banner staff writers to the state of Boise last night to investigate the matter, but we have yet to hear word of their arrival.
UPDATE: The loss was confirmed thanks to resident football expert John Madden, who analyzed the situation as such: "When you don't score more points than the other team, you usually lose the game. Football!"