Post Eagles Victory: An Interview with Mr. Olster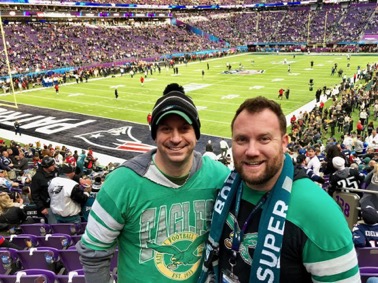 Hang on for a minute...we're trying to find some more stories you might like.
As the Harriton population returned from the momentous Eagles victory at the SuperBowl, they showed up in their proud green and mutual excitement for their city of Philadelphia. The city's Eagles Parade held on February 8th was even noted as an "educational trip" for those that missed school to see the players and celebrate.
Amongst the Harriton community were two Eagles fan teachers, Mr. Olster and Mr. MacNichol, who were lucky enough to make it to Minnesota to witness this year's historic NFC Championship game. Mr. Olster was able to share his experience.
Harriton Banner: Have you always lived in the Philadelphia area?
Mr. Scott Olster: Before college, yes. I went to college in Connecticut, and then, I came back afterwards.
HB: How important is football to you?
SO: I very much enjoy watching it. I played in middle school. But in terms of life and teaching, I wouldn't put football ahead of my family and my job. I'm a fan of it; so obviously it's a cool experience to root for something, be part of something that you don't have any control over.
HB: Do you have any football fans in your family?
SO: A whole bunch. My great-grandfather was actually the treasurer of the Eagles in the late fifties and early sixties. Then, he was able to get tickets, which was passed down to my grandfather, which are now in my uncle's hands, so I go with my uncle now.
HB: Have you been to the Super Bowl before?
SO: Not for an Eagles game. I randomly went there in sixth grade with my father as kind of a family trip to Atlanta. My mother and sister went to a Gone With the Wind exhibition during the Super Bowl, so he and I just went to the game.
HB: Before the game, how much hope did you have?
SO: As a math person, they were underdogs. You know, they were supposed to lose. But as a fan, you always have hope. You always believe they will win. And even if you don't believe they are going to win, you still don't want to miss it and say, "Oh, well they aren't going to win, I'm not going to watch it," or "They're not going to win, so I should stop this trip from happening."
HB: How did you get to the game?
SO: We drove! Another Harriton teacher, Mr. MacNichol and I. We started driving at 4 A.M; sixteen and a half hours to get there, and sixteen and a half hours to get back.
HB: How excited were you when the Eagles won?
SO: I was really excited! Everyone is talking about how excited they were when they won. I was more excited that it had been a close game. You know, you drive sixteen and a half hours and you invest time, you invest money. I left my wife and my son, and I would hate to have driven all that way, have spent all that money and have it be a very bad game. The fact that it was a close game meant it was worth it. Obviously the win was the icing on the cake. I remember eight or so minutes left in the game and just thinking that, "Wow! They're down by one point, but at least it's been this exciting of a game." I have been the person in the other shoe, where I've gone to these games and it's been, like, a dull, boring blowout with the Eagles losing.
HB: What was the best and worst memory while you were there?
SO: The best was kind of the whole weekend. Obviously the game and the team winning and everything, but the whole experience of driving out there and being there for the weekend. You know, experiencing what another city does for the Super Bowl and seeing all the different things happening in town was very exciting. The worst, or I guess a mini-regret that I had, was the night before the Super Bowl, we ran into an ex-Eagles player, and most of these athletes or former athletes are okay with taking a picture, but then they want you to get along on your way. And this particular former Eagle was really cool and wanted to hang out. I think at the time, we figured we could find more people in another location, but really we didn't. They were really laid back and personable. It would have been cool to chill out with this person a little more.
HB: Was it worth it?
SO: Yes, in terms of the experience and the team winning helps it become worth it. It was kind of a cool, fun experience. I never really minded driving, although it was a lot. I don't mind driving, you know, four hours, five hours. Mr. MacNichol and I had a good kind of a back and forth where we would drive. Every 300 miles, when we needed more gas, whoever wasn't driving became the driver, and whoever was the driver got a break.
HB: In four words, how can you describe your experience?
SO: Exciting, memorable, I-hope-not-once-in-a-lifetime, just fulfilling. Especially since I was born into fandom with my family and been going to games since seven, eight, nine years old. I was talking with my uncle; before the Super Bowl, we were saying how it brings our family together. In terms of every other Sunday, we would meet up at the game. We would always goof that from September to December, we saw each other every other weekend or every weekend. But then from January to Father's Day, we barely see each other. So it was cool not only to be there, but to spend it with my uncle.