LM Boys Basketball Team Stands With Muslim Refugees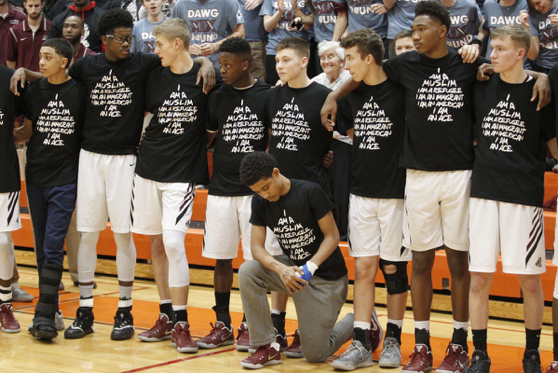 Hang on for a minute...we're trying to find some more stories you might like.
On February 14, the Lower Merion Boys Basketball team made a bold statement in support of Muslim refugees. In a game against Strath Haven High School, Lower Merion basketball players wore warmup shirts that read "I am a Muslim. I am a refugee. I am an immigrant. I am an American. I am an Ace."
The shirt was created in response to an executive order barring travel from Muslim-majority countries. The team wanted to perform a bolder gesture than kneeling during the National Anthem. The Aces clarified that the shirts were not in protest to Trump necessarily but rather in protest of hate against marginalized groups.
Najja Walker, a Muslim student on the basketball team who kneeled during the national anthem, commented, "We just felt it was time to come out and show that we support everybody, no matter your race, religion, background."
All profits made from these shirts have been donated to the American Civil Liberties Union (ACLU).
Lower Merion High is not the first school to react to Trump's immigration ban, attracting national attention. In the New York area, Beacon High School, the The Young Women's Leadership School, and several other schools protested in Foley Square, outside the Department of Homeland Security's New York office, against the ban.
Students across the country have taken to social media platforms and protested to make their voices heard.
Lower Merion won the Central League finals against Strath Haven with a score of 82-60. The team will not be continuing on to states. The team played against Conestoga, in its last game of the season, at district playoffs. Lower Merion lost with a score of 57-77.