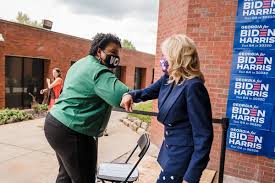 Georgia, a fundamental asset to the Republican Party, voted blue in the most recent election for the first time in 28 years. A Democratic presidential candidate has not won Georgia's 16 electoral votes since Bill Clinton in 1992.
This state was not essential for President-Elect Joe Biden's win, but it is an important symbol of the validity of his victory for many Americans. Georgia's voters exemplify how the United States is shifting toward a more liberal country.
Georgia had swung red in the previous six presidential elections. Georgia became a swing state due to the rise in political activity by Democrat Georgians. The state will now be a major focus for both parties due to it's growing democratic base. There is hope from the Democratic party and fear from the Republican party that Georgia will continue voting blue.
The cities of Georgia, namely Atlanta, have increasingly large democratic voting blocs, more so than the more rural areas of the state. However, voter suppression in urban areas occurs often and in many different ways. Georgia has strict Photo ID legislation and residents must pay for the postage on both requesting and returning a mail-in ballot. 
American politician Stacey Abrahms can take credit for this revolutionary flip. Diminishing voter suppression has been Abrahms's goal since the founding of her programs, The New Georgia Project and Fair Fight in 2014 and 2018 respectively.
Since 2018, Abrahms and her team have registered over 1,000,000 American citizens. Many of these citizens are people of color who are underrepresented in Georgia and American democracy as a whole. Their voices may lead to legislation that aids in BIPOC and queer liberation. 
Abrahms wants to ensure that every voice is heard, especially with the shifting demographics of Georgia. According to the 2019 United States Census American Community Survey, the population of Georgia is  31.9% Black or African American.
This is a large portion of Georgia's population, which means there should be an equally large say in where Georgia's electoral votes go. Biden has supported racial equality movements such as BLM and has condemned white supremacy groups, unlike President Donald Trump. Therefore, it is no surprise that the Black community has voted predominantly for Biden. 
Vice President-Elect Kamala Harris was another crucial factor for the support of Joe Biden among Black voters. Kamala Harris is not only the first woman VP but also the first person from Black and South-Asain heritage in the position. This motivated Black voters to vote for Joe Biden. 
The future of Georgia's politics could permanently change. Currently, Georgia has a Republican State Senate and governor, so there are many questions about how this state will progress.
Was Georgia only supporting the Democratic party to take down President Trump? The next few elections will tell where Georgia stands. Both of Georgia's federal senate seats are scheduled to have runoff votes in January, and there are Democrats on the ticket. Americans heard Georgia's voice, which was better represented than ever before.