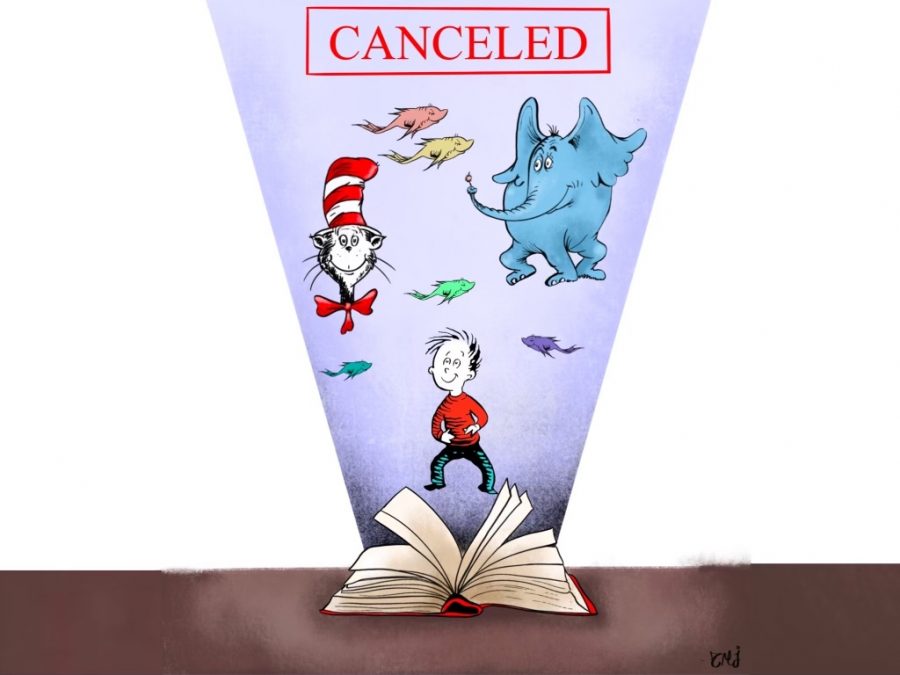 Trinidad Monteagudo-Jackson
Most American families will immediately recognize the tall, beloved feline character in a red-and-white striped hat from the wildly popular children's book, the Cat in the Hat. In fact, an integral part of the typical American childhood revolves around Dr. Seuss's books. I, myself, fondly remember the nights that I would spend with my parents reading One Fish, Two Fish, Red Fish, Blue Fish before bed.
However, a recent awakening has caused people to call for the "cancellation" of popular children's book author and political cartoonist, Dr. Seuss. For years, his racist and stereotypical images and phrases have gone unnoticed by the public eye.
Now, Dr. Seuss Enterprises announced that they will discontinue all publishing of six of his books that "portray people in ways that are hurtful and wrong." The discontinued books include And to Think That I Saw It on Mulberry Street, If I Ran the Zoo, McElligot's Pool, On Beyond Zebra!, Scrambled Eggs Super!, and The Cat's Quizzer. These books all hold stereotypical images and inhumane portrayals of Africans, Asians, and Arabs. 
Dr. Seuss often viewed ethnic or racial differences as exotic, and liked to highlight these differences in his imagery in a way that portrayed the differences as a comical 'punch line' rather than an appreciation for other cultures. 
One of his earlier titles, And to Think That I Saw That on Mulberry Street, depicted a stereotypical Asian boy, wearing a dǒulì on his head, a red kasaya, what appears to be geta on his feet, and holding a bowl of rice with chopsticks. In some other versions, the boy has stark yellow skin and a pate queue ponytail. The caption under the image reads "… A Chinese boy… who eats with sticks…" In fact, most of Dr. Seuss's depictions of the Asian race include such stereotypes. 
A page in If I Ran the Zoo contains an image of three men of Asian descent, once again wearing white kasaya and red geta, all three with Fu Manchu-esque mustaches, carrying a caged 'Bustard,' with a white man carrying a shotgun sitting on top of the cage. The caption in this section read "I'll hunt the mountains of Zomba-ma-Tant…with helpers who wear their eyes at a slant."
He also drew an Arabian man riding in the desert atop a 'Mulligatawny' (a camel) that was dressed with a hood and a traditional saddle, that sheathed a Saif sword. The man had a long mustache, a yellow turban adorned with feathers, with a white robe that had red accents, likely meant to be a thawb or a kaftan. The caption of this image said "I'll capture a scraggle-foot Mulligatawny […] From the blistering sands of the Desert of Zind…A Mulligatawny is fine for my zoo…And so is a chieftain. I'll bring one back, too," effectively suggesting that he would keep a human within his ideal zoo.
Seuss also draws two Africans as beings that appear more like a monkey than a human—embarrassingly enough, it had taken me a few minutes to understand that the image I was looking at had two men holding a bird, and not two monkeys.
Both men are short, with stubby arms and legs, a large stomach, and a round face. They wear a red skirt, likely a representation of Zulu warrior skirts, a nose ring, and a choker and bracelets on both arms. Their hair is tied up on the top of their heads, reflecting the amasunzu style of Rwandan people.
In other cartoons, he would often draw Africans as monkeys, riding atop elephants, surrounded by flies (and obsessed with Flit, an insect repellent), with black skin, thick white lips, and a white skirt. The Cat in the Hat itself has been said to be inspired by minstrelsy and blackface.
So of course, there are issues that surround these sorts of images. Absolutely none of the aforementioned images—or the plethora of racially or ethnically insensitive political cartoons, single-panel drawings, and picture books—respected or celebrated another's culture. Instead, Dr. Seuss exploited and fetishized specific, stereotypical features of cultures to emphasize their differences from a Eurocentric, 'normal' person.
Racism and ethnic bigotry is a learned concept. Exposure to negative or stereotypical thought processes at such a young age will have an initial, undesirable effect. Even if the families of children are accepting of other cultures, the normalization and casual use of harmful images in these books can subconsciously lead to the development of racial and ethnic biases in the children.
Thus, we do need a sort of censor—young children should not be shown or be exposed to these stereotypes. As I understand how precious these nostalgic pieces of literature can be, I am not suggesting that we completely stop the distribution of Dr. Seuss's books; they do contain valuable morals and are written in an engaging manner that make them perfect for children. Rather, I suggest that these insensitive images should be re-drawn; exploiting another's race for cheap jokes and foolish rhymes is ignorant at best. 
And since it would be unwise to simply 'delete' and erase any evidence of harmful content, as it would hide the existence of racism and have a negative impact on the movement towards racial and ethnic equality, I also suggest that we keep copies of the original books and images. The original, unedited copies themselves, though, should not be printed and distributed to children. Rather, they should be kept so that we may learn from them in the future.