Remembering Diego Maradona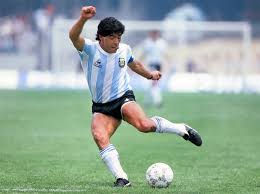 Several weeks have passed since the sudden passing of a world icon: Argentinian soccer player Diego Maradona. The wave of grief within the sports world has not yet faded.
Diego Maradona's soccer abilities paired with his unforgettable personality allowed him to carve himself into the history books, and his legacy will live on for generations. News of Maradona's passing sent an unprecedented scale of mourning across the globe, with Argentinian President Alberto Fernandez calling for three days of mourning and remembrance in his honor.
His accomplishments for his country exceed those of almost every other sportsman in history, delivering his nation the 1986 World Cup trophy after scoring a supernatural goal that experts hail as the 'Goal of the Century.'
With the ball at his feet, Diego Maradona inspired millions of dreamers in a nation where the game was nothing short of religion. His life, riddled with a mix of an excess of drugs and miraculous football ability, has become one of the most iconic stories ever to be told.
Thousands of grieving Napoli fans surrounded the newly unveiled Estadio Diego Armando Maradona, renamed in his honor. The city of Naples had lost its chief Napoleon, an icon and spokesman for its underrepresented citizens living in one of the poorest cities in all of Europe. Maradona's breathtaking portfolio of achievements at Napoli cemented his position as the greatest player of his generation, a household name in most homes and worshipped in the rest.
Countless players have based their game on his brilliance and dared to follow in his footsteps, including fellow Argentinian compatriot Lionel Messi, who regards his comparisons to Maradona as one of his most profound achievements.
He represented a beacon of hope for millions of people; while overcoming countless adversities on his journey from the impoverished barrios of Buenos Aires to representing his nation on the world stage, he engraved his presence amongst the footballing gods.