Spotlight on: Corinthian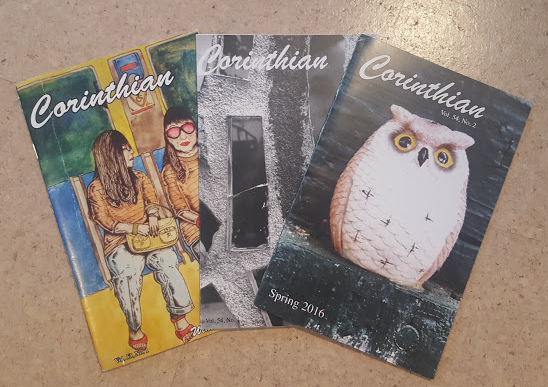 Hang on for a minute...we're trying to find some more stories you might like.
The Corinthian is Harriton's official literary magazine, published twice a year, that showcases the work of Harriton's authors, poets and photographers. Through weekly meetings and artful prompts, the Corinthian sparks the imagination of writers and readers throughout the school. Founded in 1962, The Corinthian is one of Harriton's oldest clubs, and has been giving generations of students an outlet for creative writing. The Banner had the opportunity to sit down with Gillian Bobnak, co-editor of the Corinthian to learn more about the fascinating magazine!
Harriton Banner: What is the Corinthian's main goal in publishing pieces to the student body?
Gillian Bobnak: Corinthian's main goal is to provide an outlet for Harriton's students who are interested in publishing prose and poetry. Through the publication, we hope that those who pick up an issue are inspired by their peers to write creatively as well. It is also a great chance our staff to see their writing in print!
HB: As heads of the club, what have you both learned from your position?
GB: I have been a co-editor for the past two years. The biggest responsibility for an editor is knowing how to lead a meeting effectively. This year, I have been trying to branch out the writing styles that we expose our staff to, so I have discovered many new prompt ideas and poetry styles! We have also learned how to curate an issue: how to balance the prose and poetry that our staff submits. We also have to learn how to properly regulate what our writer's submit – while there are hardly ever issues in the issues (ha!), Corinthian is still a school-sponsored publication so when writers use elements such as profanity we have to know how to censor without disregarding the author's intent.
HB: How do you see the Corinthian changing in the coming years?
GB: We are hoping for Corinthian to be ever-expanding. Although the close knit environment we experience each week is wonderful, it is also wonderful to have a larger staff. I would also like to see more of an emphasis put on the process of polishing work. We are planning to have a guest come and do a Writer's Workshop with the staff sometime this year.
HB: What opportunities does this magazine give its writers that are not given in a Harriton English class?
GB: Harriton English classes are wonderful, but few place an emphasis on creative writing due to the mandated curriculum. Students may feel as if they are stuck in the doldrums of expository pieces and we aim to provide an outlet that keeps your mind as sharp as your pencil!
HB: What type of students would you recommend to join the Corinthian?
GB: Anyone should join Corinthian! You may think you don't like to write…but if you keep writing, it will become very enjoyable!
HB: Any last comments?
GB: You should join the Corinthian team if you:
•Write at home a lot but want to have opinions on your work, we always set aside time at our meetings to go over in-progress writing.
•Are shy and like writing but not sharing, that is fine! Sharing is not forced, but it becomes easier when you do it more. (Plus we're all really nice here. There is no need to worry!)
•Are bored of writing essays (or if you want inspiration to make your school essays more imaginative!)
•Are also into visual art, we always love to have visual art submissions.
•Love words
•Know how to make an emu cry (we ponder many strange questions such as this!)