Ram of the Week: Adam Judkowski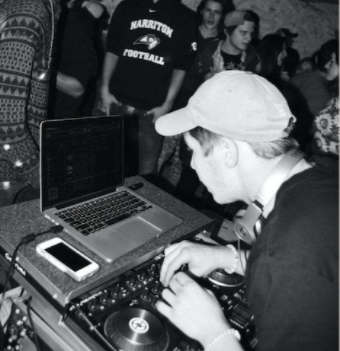 Hang on for a minute...we're trying to find some more stories you might like.
This week, the Banner puts the spotlight on Adam Judkowski, a Senior at Harriton. In addition to attending classes in his last year as a high school student, Adam works daily building his passion for music and perfecting his craft. Read further for a view into the life of Adam, a rising musician and important part of the Harriton community.
HB: How do you like being a senior? How is it different from all your other years at Harriton?
AJ: It's not really a whole lot different. It's a little more relaxed but I still feel like the average high school kid. One thing that's a little discomforting is no longer having older kids to look up to or to guide you. Many of my best friends are 1-2 years older than me so school sometimes feels barren without them. I'm honestly so excited for college. High School got stale pretty quickly.
HB: What is your favorite class at Harriton, and why?
AJ: I have to say either Philosophy with Scullin, or Meteorology/Oceanography with Ferraro. Both of them have so much passion for what they teach and it carries over to their students. Most classes at Harriton I'm asking myself why I'm sitting in class when I could be doing so many other things, but Scullin and Ferraro run an energetic classroom where they provoke genuine thought. In addition, they also connect with their students outside the classroom. Every student loves it.
HB: If you could travel anywhere in the entire world, where would you go and why?
AJ: Definitely Egypt. There's so much rich culture and history throughout the entire nation. It's so different from the western world, that's why it's so attractive to me. Deserts also happen to be my favorite biome. Something about the vibe they give off makes them so awesome and beautiful.
HB: What is one motto that you live by?
AJ: "Do it for the culture."
HB: Who is your favorite music artist?
AJ: There's so many, I'm going to list a bunch. Sam Gellaitry is easily my favorite artist right now. There's definitely some personal bias when I say this, but I truly believe he makes music that anyone can enjoy. He's either 19 or 20, but he's been making amazing music for years. It's kinda crazy because he's just barely older than me and is still one of the most skilled producers I've ever heard. Some other producers I absolutely love are Flying Lotus, Alix Perez, and Madlib. Some of my other favorite artists (non producers) are Denzel Curry, XXXTentacion, Xavier Wulf, Thundercat, Anderson Paak, and Erykah Badu. My favorite bands are Rage Against the Machine, Incendiary, Soundgarden, and Death Grips. But I could go on for hours listing artists that I love. My dad always makes fun of me because every weekend "I have to go see my favorite artist play downtown." But when you have so much passion for something so big, you're bound to have so many favorites.
HB: How did your interest in music develop?
AJ: As a kid I always listened to Hip-Hop. It was always something I enjoyed but it never consumed me until freshman year. I met my best friend Spencer Cook, someone who finally knew almost as much Hip-Hop as I did. After meeting each other (we became friends playing minecraft), our music libraries began a never ending expansion. Up until the end of freshmen year I was a purist when it came to music, especially Hip-Hop, but upon becoming friends with former student Basil Dubrosky, my outlook on music changed forever. He introduced me to electronic music, and from that point my life would never be the same. I believe if you have a genuine passion for something, knowledge of that topic just builds up on its own. That's what happened with me and music. I had a few friends open up my mind to different music, and my passion did the rest.
HB: What type of music do you make?
AJ: Making music isn't exactly what I'd call it. I'm mostly a DJ. I have some knowledge of production and can make a basic trap beat if asked, but right now production isn't my focus. I have a radio show on my Soundcloud called "OCE Radio." It's primarily Electronic music and Hip-Hop. Some people automatically label electronic music as EDM when in reality "EDM" is just a stupid term that has come out of the mainstream. Electronic Music is probably the most diverse of any genre, and depending on the vibe of the given show, I strive to display that diversity. DJ'ing gets plenty of hate for being button pushing but it's truly an art. Anyone can learn how to DJ. Unlike production you need no knowledge of music theory. But the best DJ's have a skill set that many other people do not have. They need to have an ear for what sounds good, extreme knowledge of the music that is being played, and most importantly, a deep knowledge and passion for many different genres of music. In a live scenario, a great DJ also needs to know how to read his or her crowd. Your job as a DJ is to ensure that the crowd is having a great time, while not straying from your own taste and style.
HB: How much time do you spend in a given week on your music?
AJ: Almost every minute of the day when I'm not playing rugby or sitting in class. Listening to and absorbing music is working on my music. Anyone who knows me knows that I never take my headphones off. I'm addicted to listening to music. When I get home from school I'll spend 2-3 hours DJ'ing tunes in my basement. Some days I'll work on production too, but it depends on my mood. In college I plan on spending significantly more time working on production so I can fill out my musical skills.
HB: Do you collaborate with your friends to make songs?
AJ: I have a few friends that produce music and I plan on collaborating with them in the future. All of my friend's DJ and we are constantly practicing together. Many weekends you can find us playing shows/parties at Temple and Drexel. I have also rapped with some friends before. It's quite embarrassing and most of the songs are sitting on my computer, unreleased. But there's a couple up on my Soundcloud for the world to laugh at.
HB: Where can someone access your music who wants to listen?
AJ: Soundcloud! I go by Kira. I got it from an anime called Death Note. I changed my name from ajud47 a while back but for some reason you can still find me more easily by searching ajud47. But if you search OCE Radio, my account and all the shows will come up. I also always leave a link to my Soundcloud in my Instagram bio.
HB: Where do you see yourself in 5 years? In 20 years?
AJ: In 5 years I'll be just out of school (hopefully Georgia or NYU but we will see!). I'm hoping to have a job in the music industry but I'm really clueless. Maybe if my production magically gets lit in college I'll be blowing up on soundcloud. DIY is the way to go these days. The ultimate goal is to have my own venue one day. Ideally it will be a small, upscale venue that brings in the best names in electronic music. By booking larger acts, I hope to bring in the most niche, die-hard fans to ensure the craziest shows possible. My favorite thing on the entire planet is going to an amazing show, and I hope to create that experience for so many others.
HB: Do you have anything you would like to say to the Harriton Community?
AJ: Check out my fellow artists Zejibo (soundcloud) and OVRCOOKED (Instagram). They are some of my best friends and are making truly amazing art.