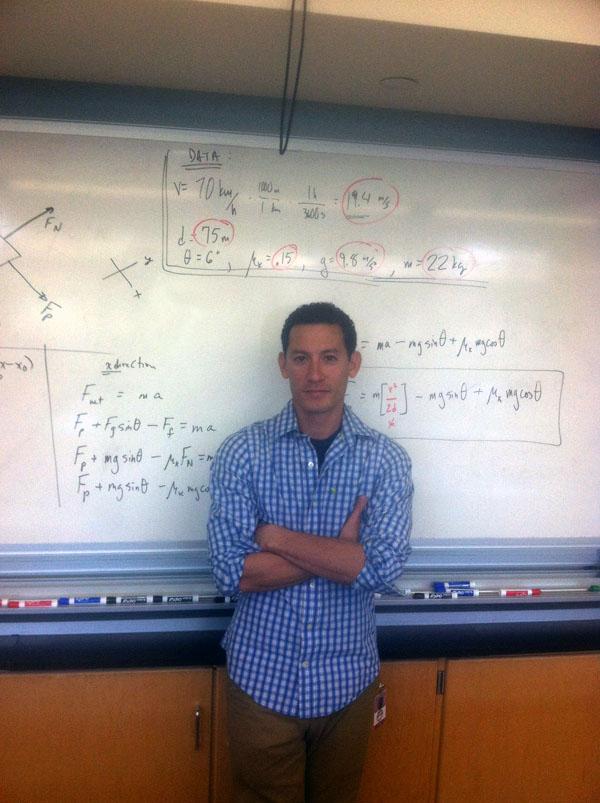 As you enter a new school year, you always want to find an upperclassman who can give you the scoop on your set of teachers – if they are good at what they do, if they are hard, if they are crazy, etc. But this year, physics students won't be given any background information to prepare them for their class with Mr.Imaizumi.  Fresh from teaching math at Welsh Valley middle school, Mr. Imaizumi is excited to be at Harriton teaching AP, IB, and CP physics. Here is his inside story.
A graduate of Harriton High School, Mr. Imaizumi's interest in physics was sparked years ago by Mr. Schwartz, his AP physics teacher and faculty advisor of Science Olympiad.
He described himself as a nerdy, athletic, highly competitive high school student. "I was sometimes conflicted about trying to fit in and being rebellious at the same time," he said, "I failed at both back then."
While in high school he decided that he wanted to be a neurosurgeon.
Yet, after attending college in Florida, he joined the Peace Corps and spent some time teaching in West Africa. After this experience he went back to school, and it was there that he realized his passion.
"I was in a PhD program in electrical engineering and realized my passion for [teaching]. Needless to say, I dropped out of the PhD program for the more fulfilling pursuit."
When asked what his favorite part of teaching was, he quickly responded, "The students. Students all different so each student presents a different challenge for me."
He explicitly stated his least favorite part was the grading and the stress.
Teaching middle school students and high school students, he added, require very different approaches, as well.
"Middle school students need to be taught how to learn, to learn good habits, to learn a sense of citizenship, and so on. A high school student needs to devlop these skills a bit further. And of course, content in high school is, in general, more sophisticated, so teaching has to reflect that added level of sophistication as well."
Before Mr. Imaizumi taught at Welsh Valley, he developed his teaching skills in schools around the world. He has taught in Brazil, Philadelphia, Springfield, and Cape Verde, West Africa. He speaks four languages fluently: English, Spanish, Portuguese, and Verdean Creole.
He was also fluent in German and French at one point, "If you gave me a couple weeks in those countries, I'd get the rust out. It's been a while."
He listed his favorite countries as Brazil, Japan, Cape Verde, and the United States, all for various reasons,
"Japan is beautiful and the people's sense of dignity is admirable. I came to be so close to the people in Cape Verde, so I have find memories of my time there. I love Brazil because of the warmth of the people, and I am Brazilian. The US is  afavorite because of its opportunities and because I'm American. Also it's where I've chosen to raise a family."
Outside of school Mr. Imaizumi enjoys playing music, soccer, surfing, and being outside, "I spend most of my time doing these with my 3 little boys." He also seems to enjoy listening to music. His most played songs on his iPod include "My Name is Jonas," Mozart Piano Sonatas, "The Scientist," "Luna," and "Out on the Weekend."
"But ask me again in a week," he said, "It will be different."
Mr. Imaizumi has a very deep side as well. When asked who he would like to have dinner with, he thoughtfully answered "With Buddha, Jesus, Mohammed and Thomas Jefferson." He would want to get them to lead a commission on world peace,
"Cheesy, I know, but it's a dreamy answer to a dreamy question," he concluded.
He concluded with words of wisdom for the students at Harriton.
"Don't think that high school even remotely resembles what life has to offer. Life outside of high school will be far more enjoyable, more spirited, more challenging (in good and bad ways) and filled with different kinds of people."
He encourages the students of Harriton to start working on being independent, to pay less attention to superficial aspects of life, and to have the courage to challenge themselves.