Ram of the Week: Noah Karpel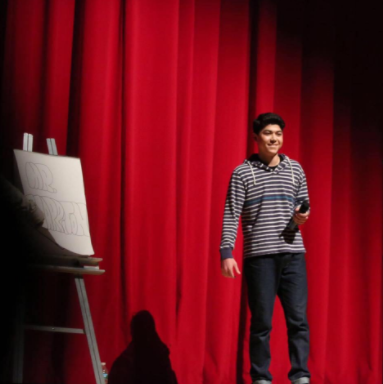 Hang on for a minute...we're trying to find some more stories you might like.
Noah Karpel, among being a Star Wars fanatic and dog lover, is a lively senior here at Harriton. Wherever he goes he never ceases to make someone laugh. Noah is incredibly well rounded and involved in the Harriton Community. Whether it's through Student Council, Mr. Harriton, or the Terd, Noah 'Doobs' Karpel is a great part of Harriton.
Harriton Banner: What is a way you contribute to the Harriton Community?
Noah Karpel: I'm a student rights co-chair this year, I helped get urinal splash guards in the bathroom.
HB: What else do you do around Harriton?
NK: I'm a part of student council, so I do the usual student council duties. I bring in concessions, I don't get in trouble. That sort of thing.
HB:How long have you been in Student Council?
NK: I started sophomore year, and didn't do as much. Junior year I was secretary and helped out in Mr. Harriton. We raised about $20,000 that year. This year we raised around $30,000.
HB: Since you're a senior here at Harriton, what has been your overall experience here?
NK: It changes based off of how many tests I take a week. This week I only had to take one test, so I love it!
HB: What are your plans after Harriton?
NK: I'm going to Duke. I'm interested in a lot of different things so I don't know what field I'm going to go into just yet. I'm interested in computer science, pre- med, or pre- law.
HB: What is a goal of yours?
NK: World peace.
HB: What do you do outside of school?
NK: I run the Terd, which is a Harriton facebook group I started it a couple years ago. It was originally me and like ten other people. We would just post random, funny stuff.
HB: Has it snowballed into something more?
NK: Yeah we have around 270 members now. It took off this year, and it's not just Harriton kids. We have LM students and some college kids.
HB: What is something people wouldn't guess about you, or don't know about you?
NK: I made varsity soccer this year actually. I'm also apart of speech and debate. I went to state championships a couple years ago. Nate Rush and I did duo interpretation. We did a Jake and Amir sketch called "Doobs." That's actually how I got my nickname "Doobs."
HB: Is Doobs an alter ego of sorts?
NK: I honestly incorporate Doobs into so much of my everyday life, at this point it's just who I am.
HB: What is something you'd like to say to the Harriton community?
NK: Find enjoyment in these four years. Study hard, don't study too hard. Have some fun!