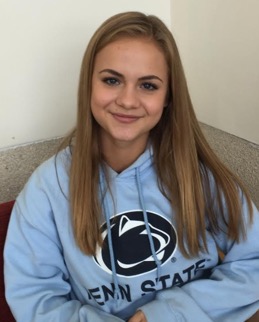 Siena Tickle is an active sophomore in Harriton High School, as well as one of the founders of the Play Pals club. Play Pal members take a Harriton bus to Overbrook Educational Center once a month, the only public school in Philadelphia for kids visually impaired.
Each club member is assigned an Overbrook student in kindergarten through 3rd grade, who they read to in an attempt to try and increase the student's literacy. The club also fundraises for the school, as they do not have enough money to build certain structures, such as a playground.
The Harriton Banner sat down with Siena to try and learn more about her, the Play Pals Club, and their inspiring work.
HB: How did the idea first come about to start the Play Pals club?
ST: Last year for day of service, my advisory went to the Overbrook Educational Center, and I really enjoyed the experience. As we were leaving, the Overbrook principal said that if we had a good time, we could come back and help again. On the bus ride back to Harriton, I was talking to others who wanted to come back, and we jointly decided we could have an even larger impact on the school if we started a club.
HB: Who helps you run Play Pals, if anyone?
ST:  Sydney Klein and Taylor Fagan, my Co-Presidents, help set up the meetings, and I run them. Mr. Shook is our club sponsor.  
HB: What makes Play Pals different from other Harriton clubs?
ST: Play Pals is different than other Harriton clubs because it is very interactive, as we actually go to the school, and we see how the club is directly impacting our students over an extended period of time.
HB: What is something that you are looking forward to in Play Pals?
ST: I am looking forward to growing our club over the years, as this is only the club's first year. Additionally, I am looking forward to seeing the kids we work with progress through elementary school in the years to come.
HB: How often does Play Pals meet?
ST:  Play Pals meets at Harriton once or twice a month, and the club goes as a group to the school once a month.
HB: How can those interested in the Play Pals club get involved?
ST: They can email me and I will add you to our Play Pals email list so you will know when our meetings are taking place.
HB: Besides the Play Pals club, what other Harriton activities do you participate in?
ST: I participate in field hockey, Student Council, Optimal Club, WIA, Speak Up, and Girls Who Code.