Recipe of the Week: Gingerbread Cake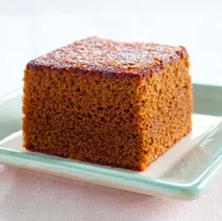 Hang on for a minute...we're trying to find some more stories you might like.
No matter what holiday you celebrate, this time of year easily fills everyone with excitement. But while holidays can be the best time of the year, they can also be the most stressful time of the year since all of the teachers are squeezing in last minute tests, projects, and essays. That is why you deserve to relax and eat all of your stress away with this delicious recipe that I found.
Whether you are searching for a treat to bake for a holiday party or simply because you're hungry during this winter season, I have a recipe that's super simple and mouthwateringly tasty. It takes a while in the oven, but trust me, it's worth the wait. So grab a pan, large bowl, and a whisk because you are in for a treat!
Ingredients:
1/2 cup white sugar

1/2 cup butter

1 egg

1 cup molasses

2 1/2 cups all-purpose flour

1 1/2 teaspoons baking soda

1 teaspoon ground cinnamon

1 teaspoon ground ginger

1/2 teaspoon ground cloves

1/2 teaspoon salt

1 cup hot water
Directions:
Preheat oven to 350 degrees F (175 degrees C). Grease and flour a 9-inch square pan.

In a large bowl, cream together the sugar and butter. Beat in the egg, and mix in the molasses.

In a bowl, sift together the flour, baking soda, salt, cinnamon, ginger, and cloves. Blend into the creamed mixture. Stir in the hot water. Pour into the prepared pan.

Bake 1 hour in the preheated oven, until a knife inserted in the center comes out clean. Allow to cool in pan before serving.