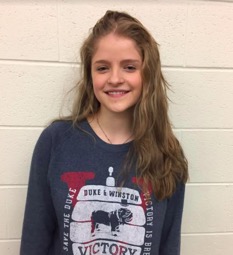 Maya Cantu is an active sophomore, as well as the Vice President of the newly formed Girls Who Code chapter here at Harriton. Girls Who Code is a national organization boasting over 40,000 members, aiming to close the gender gap between men and women in computer science by offering girls the opportunity to learn coding.
Although formed just this year, the chapter has over 100 members, most of whom have never been exposed to coding prior to joining. The club is also involved in different community service projects, aimed at providing less fortunate girls in the Philadelphia Public School System the opportunity to code. Today, I sat down with Maya to try and learn how she helps run the Harriton chapter of Girls Who Code, while staying involved in other activities.
HB: How did the idea first come about to start a Harriton chapter of Girls Who Code?
MC: I have always been interested in computer science. When the President of the chapter, Melanie Sporn, introduced me to the Girls Who Code organization over the summer, we both knew that a Harriton chapter needed to be started. As we began talking to others, Melanie and I realized how many girls wanted to get involved in the club, and it was only a matter of time before the chapter was formed.
HB: As Vice President, what role do you play in running the club?
MC: As Vice President, I help the President plan the meetings, help run the meetings, help plan coding projects for the club members, as well as teach part of the coding at the meetings.
HB: What makes Girls Who Code different than other Harriton clubs?
MC: Girls Who Code is different than other Harriton clubs because we are more than just a club; we are part of a national organization that helps bring awareness to a global issue. We not only code, but bring girls together who otherwise would not have been friends.
HB: What is something you look forward to doing in Girls Who Code?
MC: I look forward to inspiring other girls, learning more about computer science, meeting new people, and hopefully developing an app designed for Harriton students by the end of the year.
HB: How can those interested in joining Girls Who Code get involved?
MC: Those interested in joining Girls Who Code can email me or the President at [email protected] or [email protected]. Everyone is welcome to our club (including boys), and we meet weekly during lunch and learn.
HB: What other Harriton activities are you involved in?
MC: The other activities I spend the most time involved in at Harriton are Crew and the Yoga Club.
HB: What advice do you have for other trying to balance leadership positions in clubs as well as Harriton athletics?
MC: The most important thing to know while balancing multiple activities is how to manage your time, prioritize your tasks, and how you utilize your time to make the most out of it.