Recipe of the Season: Sugar Chocolate Chip Cookies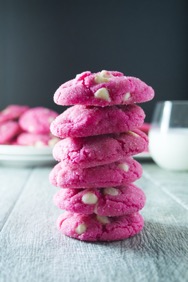 Hang on for a minute...we're trying to find some more stories you might like.
Prom season is among us! The Features section at the Banner wanted to share with Harriton a recipe for delicious sugar cookies – appropriate for prom-posals, a simple girls night, or even a gift to your favorite teacher by the end of this school year!
Ingredients
1 1/4 cup sugar + 1/2 cup for rolling

1 cup butter

3 egg yolks

2 tsp vanilla

1 tsp baking soda

2 1/2 cup all purpose flour

1/2 tsp cream of tartar

1/2 tsp salt

12 oz bag of white chocolate morsels

1 tube Hot Pink Gel Food Coloring … or add in red until the desired color is reached
Instructions
Preheat oven to 350 degrees and line a cookie sheet with parchment paper

Start by creaming together the sugar and butter in a large mixing bowl

Add in the egg yolks one at a time and beat into the mixture before adding the next one

Mix in the vanilla and salt

In a separate bowl, mix together the flour, baking soda, cream of tartar and then slowly incorporate into your sugar batter .. this takes time, it will seem very dry at first but will come together nicely

Add in the Hot Pink Food Coloring (I used two tubes.. way overkill but so pretty) and stir to combine

Stir in the while chocolate morsels until all have been mixed into the batter

Pour remaining 1/2 cup sugar into a separate bowl and roll your sugar cookies in the sugar to coat

Spoon into 1.5 inch balls and place them on your cookie sheet – do no flatten!

Bake for 12 – 3 minutes and remove.. let sit on the cookie sheet for 2-3 minutes before moving the cookies to a wire rack

Cool and eat them up!