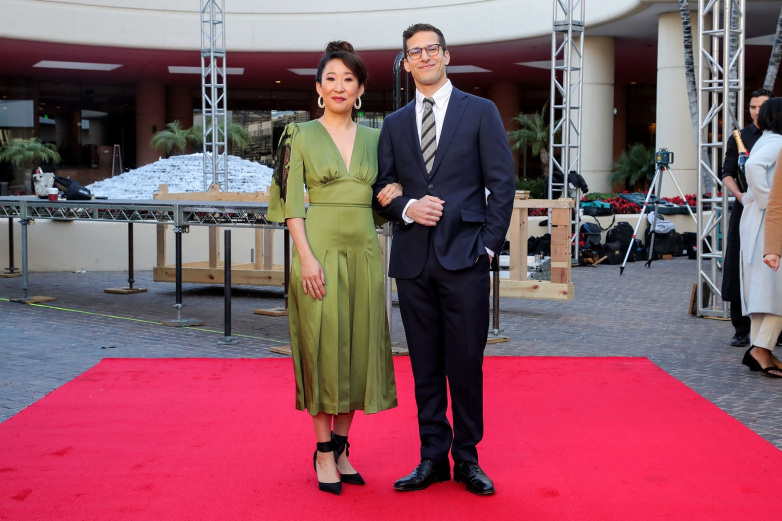 Widely regarded as the opening of the awards season, the Golden Globes were held on Sunday, January 6, 2019. The show, which honors excellence in both film and TV, was hosted by comedian Andy Samberg and actress Sandra Oh. The ceremony, as always, had its highs and lows, but for the most part proved to be an entertaining night.
The two began the show with an opening that was witty, yet very safe. Most of their jokes didn't make the controversial stir that previous hosts, such as Ricky Gervais, are known for; but their impact came in a different form.
At the conclusion of the hosts' monologue, Oh discussed her gratitude towards the state of Hollywood, saying she chose to host "because I wanted to be here to look out into this audience and witness this moment of change."
Oh wasn't the only celebrity willing to tackle different societal issues in their acceptance speeches. The theme of women's empowerment, bolstered by the Time's Up movement, from last year still lingered throughout this year's show.
Regina King won her second Golden Globe with her performance in If Beale Street Could Talk, Barry Jenkins's adaptation of James Baldwin's classic novel. In her speech, she vowed to fight for gender equality, stating that she challenged herself to only participate in projects with 50 percent or more women.
King wasn't the only woman who discussed these inequalities. Lady Gaga, who won for Best Original Song for her work on the song "Shallow" from A Star is Born, said in her speech, "As a woman in music, it is really hard to be taken seriously as a musician and as a songwriter."
As the night went on, more awards were handed out, many were confused by some of the recipients. In TV, there were a few surprises, including The Bodyguard's Richard Madden winning Best Actor in a Drama Series and A Very English Scandal's Ben Whishaw winning the award for Best Supporting Performance in a Series, Miniseries, or TV film.
Maybe most surprising were the awards given out for in the movie categories. The controversial film Green Book, which had some critics praising and others criticizing the film's depiction of racism, went home with three out of the five awards for which it was nominated.
These included Best Screenplay, Best Supporting Actor for Mahershala Ali and, most notably, Best Motion Picture (Musical or Comedy).
Another surprise came when the Best Actress in a Motion Picture (Drama) winner was announced, many thinking that it was a sure win for Lady Gaga in A Star is Born. Many were shocked to hear Glenn Close declared the victor, marking the first time that she has won an award in the film category of the Golden Globes.
In her speech, she also mentioned femininity, discussing her mother and many other women's internal struggle to become more than just a counterpart to a man. This proved to be one of the emotional high points of the whole ceremony. Although these awards all caught viewers off guard, nothing was more shocking than the final two awards.
When it came to the awards for Best Motion Picture (Drama), many were convinced that the award would be going to Bradley Cooper's A Star is Born. It was a shock to many when Bohemian Rhapsody won instead.
The win was just as shocking to the producers of the film, as they stood in their seats almost shell-shocked that their film was taking home an award in one of the biggest categories.
The win was quite controversial due to its relative lack of critical praise. Many critics felt that Bohemian Rhapsody, despite its strong lead performance by Rami Malek, lacked the emotional and poignance of smaller films like If Beale Street Could Talk, A Star is Born, and BlacKkKlansman.
There were many other winners throughout the night. Extremely talented performances in TV were honored, like Sandra Oh in Killing Eve, Rachel Brosnahan in The Marvelous Mrs. Maisel, and Darren Criss in The Assassination of Gianni Versace.
On the other end of the spectrum, movie stars like Olivia Colman in The Favourite and Christian Bale in Vice, both went home with a trophy. Not to mention the various unexpected surprises, including frontrunner, A Star is Born, getting completely shut out from almost all of the categories that they were nominated for, except Best Original Song.
In the end, the show was a nice opening to the awards season, laying out the foundation for the nominations and winners of the upcoming ceremonies.