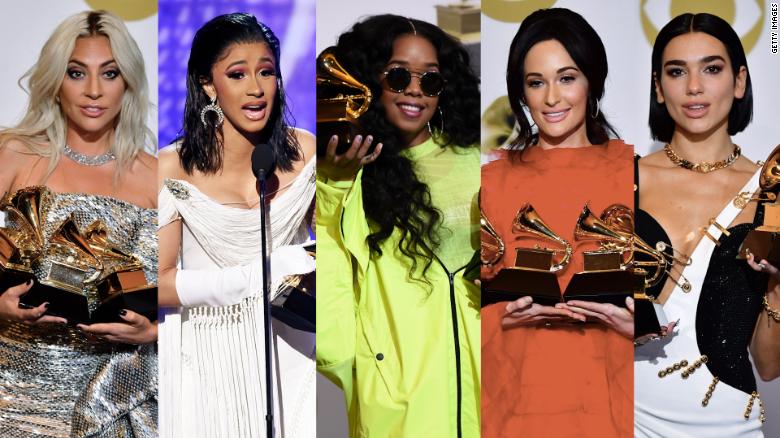 2018 was a jumbled year for music, a mix of shocking debuts and disappointing follow-ups. In a difficult, confusing world, this past year's best music either made us reflect on our worries or forget them. Here are the top 20 albums of the year.
WHACK WORLD, TIERRA WHACK
In Philadelphia rapper Tierra Whack's debut album, she cruises in her self-paved lane. Whack's ability to combine different styles and many emotions in just a short period of time is what makes this album so enticing. Clocking in at only 15 minutes, Whack World is the epitome of imagination and originality.
SOME RAP SONGS, EARL SWEATSHIRT
At only 16, Earl Sweatshirt released his first mixtape Earl, effectively launching his music career. Now, 8 years later, Sweatshirt proves that he is just as talented and even more mature. On Some Rap Songs, Sweatshirt is at his best. As always, he addresses important social issues and stays true to his unique style, proving he's the king of abstraction.
ASTROWORLD, TRAVIS SCOTT
Filled with club bangers and carefully curated tracks, Travis Scott proves that he is at his strongest and is only getting better. On tracks like "Stop Trying to be God," "No Bystanders," and "Stargazing," he demonstrates not only his flashy writing skills, but also his ability to craft infectious beats.
QUEEN, NICKI MINAJ
After a four-year break and a whirlwind of dramas, Nicki Minaj returns with a fire that her previous works were missing. Even though there were a few space fillers, Nicki's rap charisma is unmatched and radiates on Queen, especially in songs like "Barbie Dreams," "Good Form," and "LLC." The only thing holding back this album was its rocky release, but overall, Minaj's fourth album is a fun and enjoyable ride.
SWEETENER, ARIANA GRANDE
In her fourth album, Grande has a lot to address: the tragic Manchester bombing at her concert in 2017; her short-lived relationship with comedian Pete Davidson (yes, there is a song called "Pete Davidson"), and the ways she has coped with it all. Ariana brings honesty and emotion to her strongest album yet, featuring a mix of quirky production from Pharrell Williams and classic pop production from Max Martin and ILYA. Some of the strongest songs include "Get Well Soon," "God is a Woman," "Successful," and "R.E.M.,"  where Ariana shines bright with hope for her future.
NEGRO SWAN, BLOOD ORANGE
Dev Hynes, better known as Blood Orange, proves that he is still able to create meaningful and interesting music even on his fourth album. His ability to combine multiple genres into music that chronicles the difficult and complicated lives of the marginalized shines. It's songs like "Charcoal Baby" that further cement Hynes' place in modern music.
HEAVEN & EARTH, KAMASI WASHINGTON
At almost 150 minutes long, Washington's second, expansive album establishes his place in the modern jazz scene. His boundless approach to the genre allows his music to be quite interesting. Washington, a classically trained saxophonist and composer, revitalizes jazz while maintaining his superb skills on every song. Heaven & Earth transcends the norm and returns with an all-encompassing, glorious composition.
FLOW STATE, TASH SULTANA
With her debut album, Australian musician, Tash Sultana sparkles brighter than ever before. On this eclectic album, she fuses genres like pop, R&B, reggae, alternative, and rock, creating a musical delight. Sultana's musical ability is godly: her guitar sorcery and strong, sultry voice radiate throughout the whole album. Flow State is an ambitious debut and gives us a glimpse into Sultana's thrilling career.
GOLDEN HOUR, KACEY MUSGRAVES
On Musgraves' third album, she comes with a new, more liberated perspective (one that was lacking from her previous works). Kacey's free spirit and unparalleled creativity show why she is vital in the country music scene. Her witty lyricism, vulnerability, and silky vocals on songs like "Space Cowboy," "Rainbow," and "Slow Burn" are what make this album so special.
KIDS SEE GHOSTS, (KID CUDI AND KANYE WEST)
After frequently collaborating together on a plethora of tracks, Kanye West and Kid Cudi finally released their highly anticipated album, Kids See Ghosts. West and Cudi's connection is transparent throughout the whole album and adds a deep layer to the album's meaning. Kids See Ghosts is a wild and invigorating ride from start to finish.
OXNARD, ANDERSON .PAAK
Anderson .Paak is a force to be reckoned with. On Oxnard, .Paak provides a climatic and energetic finale to his "beach trilogy" (previously followed by Malibu (2016) and Venice (2014)). .Paak's integration of rapping and singing is superb, not to mention his incredible talents on the drums. It's tracks like "Tints" and "Mansa Musa" that make us wonder how much better .Paak can get.
SUPERORGANISM, SUPERORGANISM
Superorganism isn't your typical band. Consisting of eight members from all across the world, Superorganism combines eccentric and fruitful sounds with sedative vocals provided by lead singer, Orono Noguchi. The debut is ambitiously kooky and in the end it plays off. You can't do anything but smile at the band's bubbly attempts to remedy the agitated world we live in.
EL MAL QUERER, ROSALĺA
On El Mal Querer, Rosalía finds a perfect blend of flamenco and pop and creates an iconic album that will serve as an influence to future artists. Rosalía's gorgeous vocals and powerful vibrato lingers throughout songs like "Malamente" and "De Aqui No Sales". El Mal Querer is an opening to a new world, one that has been missing from the music industry.
ROOM 25, NONAME
Ever since her 2016 mixtape, rap fans have been wondering what more Chicago rapper, Noname could bring to the table. On her debut album, Room 25, Noname creates a hip-hop tour de force, combining strong elements of jazz and neo-soul. As the album continues, chronicling her coming of age, we become more entangled in Noname's eloquent words.
DAYTONA, PUSHA T
Although Kanye West's "Wyoming Sessions" (referring to the five albums recorded in Jackson Hole, Wyoming and released this summer under G.O.O.D. Music) were sometimes splotchy and lacking cohesiveness, Pusha T showed that he could defy those issues. On Daytona, Pusha emerges with physique, utilizing his often-overshadowed rap skills over prominent Kanye-produced beats. Although only 21 minutes, Pusha T manages to create a truly focused and gritty album.
DIRTY COMPUTER, JANELLE MONÁE
In a year where pop music was dominated by rap, Janelle Monáe was able to stand out. Dirty Computer isn't just one thing, which is why it's so special. Computer analyzes issues of gender, sexuality, race, and social justice, often over techno-funk beats. It is evident that Monáe has hit her stride on this album. Janelle's extreme talents and genuine view of the world is refreshing and ultimately results in one of the best albums of the year.
ISOLATION, KALI UCHIS
After bubbling under the radar for the past five years, Kali Uchis broke big in 2018. Upon the release of Isolation, Kali Uchis became a universal sensation. Whether it's the Colombian-American singer's eccentric lyricism or dreamy voice, Uchis is capable of drawing audiences in from afar. Every song radiates an instant energy that is unmatched, especially those like "Just a Stranger," "Tyrant," "Nuestro Planeta," and "After the Storm." Isolation is an incredibly strong debut and a scintillating and breezy ode to Latin American flair.  
EVERYTHING IS LOVE, THE CARTERS (BEYONCE & JAY-Z)
On the heels of one of the most awaited collaborative albums in all of music history, Beyoncé and Jay-Z delivered with the culmination of pain and anticipation. The new album is a feat of love, as the couple consistently references their tumultuous marriage and how they resolved it. But the album is far more than that. Everything is Love's greatest offer is in addressing many topics, even if they are on opposite spectrums. Besides marriage, the couple describes the unequal treatment of African-Americans, black greatness, and of course, the couple's astonishing fame. Most importantly, Everything is Love leaves its listeners with something more momentous: the key to life is forgiveness.  
LOST & FOUND, JORJA SMITH
The best debut of the year goes to Jorja Smith, a powerful and emotional English singer-songwriter. On Lost & Found, Jorja dives head first into melodic tunes with her breathy, enchanting voice. Not only is this album a soothing joyride on a mountain side, but a meticulous endeavor into human nature. This smoky debut is simple and patient on a first glance, but extremely perplexing and thoroughly indulging. With her poignant songwriting and visceral style, Jorja Smith has the potential to be one of the biggest names in music.
BLACK PANTHER: THE ALBUM, VARIOUS ARTISTS
With a groundbreaking and major cultural phenomenon like Black Panther, it was essential to have a fitting soundtrack. When searching for a curator, director, Ryan Coogler, turned to rap icon, Kendrick Lamar. Aided by his production skills, the album brilliantly jumps from soaring vocals by Jorja Smith, SZA, and James Blake, to stand-out verses from Schoolboy Q, Jay Rock, and Yugen Blakrok. Every performer steps up to the plate, providing excellent, expressive performances. The album is simply put, a stroke of genius. Creating a soundtrack that rivals the film itself is almost an impossible feat, but somehow the virtuoso that is Kendrick manages to do it.