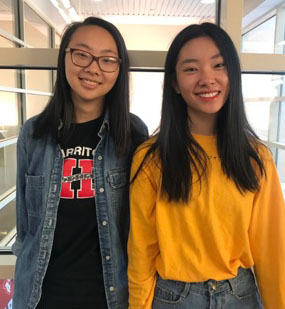 Harriton is home to one of the most successful Science Olympiad teams in the nation, with the team placing in the top three at the national competition during each of the past four years, and coming in the top ten for the last twenty (!).
The "Scioly" team practices for several hours after school each day to prepare for "study events" (paper and pencil tests on information and comprehension) and "build events" (competitions in the construction of model planes and rockets, etc).
At the end of each school year, the team holds a vote to choose two rising seniors to lead the team during the following year. The Banner asked this year's captains, Allison Zhang and Sunme Zhao, to speak about their roles.
What are your responsibilities as team captain?
Allison: On paper, we're tasked with giving talks at group meetings, making schedules/putting people on competition teams, organizing events like the Event fair in the fall or sending out information before invites or competitions.
Obviously, there are a lot of unspoken responsibilities that follow, which are a little more unclear. For me, I see it as advising and problem-solving within the team. We're also partially responsible for setting the tone for the year, but that goes for all returning members and upperclassmen especially.
Sunme: Our role is to communicate with the team and coaches. We send out emails, communicate with individual events and the team as a whole, and help our coach Mr. Gauvin in putting together the best competition team given scheduling limitations.
We also interact with captains from other teams across the country to trade tests and resources.
What do you plan to do differently from previous years, and what do you plan to keep the same?
Allison: The structure of the team and the role of captains has remained the same and proven effective over time, so I'd expect those to stay the same. Each pair of captains has different styles of leadership and contribute to certain dynamics.
That'll change whether I plan it or not, but I'd like to make a conscious effort to bring the team together socially. The team is huge so sometimes it's difficult to encourage everyone to talk to each other or open up avenues for recreational interaction.
Sunme: Considering our track record, there's a lot we can keep the same. We plan to emphasize positivity and a friendly, trustworthy community within the team. We had a few setbacks last year that we hope to avoid by being careful to make sure all our bases are covered early on in the year.
What are your goals for the team this year?
Allison: To get first at nationals…
…because what are we doing if we're not here to win? Winning nationals is the goal every year. A goal for returning members is to welcome and integrate newcomers, and a goal for the newcomers is to fully understand how Harriton Science Olympiad functions and to understand the best mentalities to keep in order to make the most of the club.
A lot of the culture is difficult to articulate and is best shown rather than told.
Sunme: To get first at Nationals!
We have done extremely well at Nationals the past few years, but we've been just shy of first place. We are so excited that we have a strong group of returning members and tons of potential in the new members.
Aside from that, we hope to continue to bond as a team this year and welcome many new friends as well!
What makes Harriton Science Olympiad so successful?
Allison: The sheer number of people on our team. It fluctuates between 40-60 people from year to year and changes from fall to spring. We're all working together. We make a point of stomping out the culture of cutthroat competition and instead focus on the 'greater good'.
The aim is to create an environment where everyone feels comfortable interacting with others without thoughts of "I need to beat them" or similar individualistic ideas. Malicious competition between team members generally doesn't work out well for us but cohesive fronts do.
Sunme: It always comes back to the size of our team. We pride ourselves in having a lot of people put in a lot of hours, and it certainly pays off!
Even though only two to three people are allowed to compete in an event on the day of the competition, our events have the year-long support of many upperclassmen and underclassmen who are constantly busy writing quizzes, building, testing, etc.
I think the involvement from everyone has come to define the culture of our team: we all know that it is the contribution of each person, competitor or not, that results in the success of individual events and, ultimately, our team.
Summarize the team culture in three words.
Allison: I'm terrible with word limits (rip CommonApp) so I'll offer you the four rules instead:
1) oly first
2) school second
3) don't get arrested
4) safety fourth
Sunme: "Chosen family members"
I know this goes beyond the concise answer you were looking for, but I think the answer benefits from some explanation. Harriton Science Olympiad becomes a lot like a family, probably a result of us spending way too much time with each other every day after school, during lunch, and traveling to competitions.
We have those genius cousins that exist in every family, and there are many inside jokes that really make no sense. Unlike a family, however, we all choose to dedicate ourselves to this team. We choose to endure the terrible January weather in Boston, and we choose to subject ourselves to possibly even more terrible kazoo playing.
All of that is what makes Harriton Science Olympiad so special. Yes, we all put in effort because we love science and it's amazing to win, but there is an underlying respect and appreciation for everyone else on the team that drives us to do what we do.