The Lover Album
Taylor Swift Embraces Herself and Her Beliefs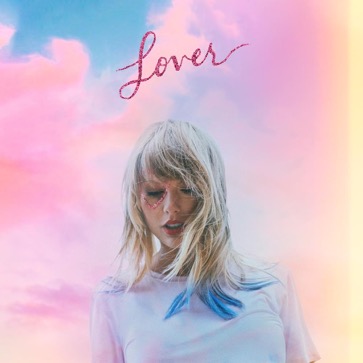 On August 23, 2019, Taylor Swift released her highly anticipated seventh album, Lover, through Republic Records. With eighteen songs, Lover is Swift's longest and most ambitious album to date.
Since the beginning of the year, Swift had her fans on the edge of their seat for her new album.
On April 26, 2019, Swift released her first single, "Me! (featuring Brendon Urie)."Although met with mixed reviews from critics and listeners alike,"Me!" is bright, colorful, and undeniably poppy.
Following the 2017 release of Reputation–a dark and gritty pop album–many fans didn't know what to expect from the songstress moving forward. With the rainbow color scheme of exuberant pastels in the "Me!" music video, Swift hinted to her audience that she had moved on from the doom and gloom of Reputation, and was ready to step into the Lover era.
Immediately, fans embraced this new era and its style–one that has made Swift the pop star she is today. With earnest storytelling soft melodies, and powerful messages, Lover's music proved that Swift returned to her classic self.
Riding on the success of "Me!," Swift released the album's second single, "You Need To Calm Down," two months later, along with a video that would go on to make huge tidal waves in the entertainment industry.
The video addresses and resolves Swift and Katy Perry's long-lasting feud, as the two hug each other in eccentric fast-food costumes. Additionally, the video is littered with "Easter eggs," giving fans a sneak peak of future Taylor Swift merchandise, and uses visual cues to hint at the titles of the next singles to be released.
Most importantly, the "Calm Down" video acted as a huge platform for Swift to share her support for LGBTQ rights, with many well-known LGBTQ celebrities starring in cameo roles. At the end of the video, Swift urges viewers to support her Equality Act.
The songs on Lover span a wide variety of musical tones from the peppy and confident "I Forgot That You Existed," to the somber and honest "Soon You'll Get Better (featuring Dixie Chicks)," which discusses her mother's struggle with breast cancer.
Lover showcases Swift's growing maturity as an artist and a human, as the twenty-nine year old singer proves her wide musical capabilities while sharing her hopes of continuing a stable and aspirational personal life.
Interpretations of Swift's new music differ, but many see it as an affirmation that the pop star is unchanged and unbroken, despite hardships in her personal life. Both critics and fans are supporting the album's return to classic "Swift" style.
Overall, Taylor Swift's new album, Lover, is a big success. As she steps into a bolder sound and pushes her lyricism, Swift proves that she has much more to offer than ever before.  With songs that have already garnered critical acclaim, the new album highlights what Swift truly cares about: political beliefs, self-expression, and developing maturity.