Behind The Scenes: Dr. Harriton Lighting
Spirits were high about this year's Dr. Harriton, especially surrounding the new lighting features. I chatted with the current head of lights, Emily Wright, to get the low down on the behind-the-scenes action.
According to Emily, the style of lighting for Dr. Harriton is typically more fun than an HTC show—the lighting is much more concert-like and extravagant in terms of color. For a normal theatrical production, the colors are more natural, usually just warm or cool tones. 
The concert-style lighting focuses less on angling and shadows to complement the actors, and more on distinguishing them individually. This attention on flashiness makes the lighting exciting for both the audience and crew to view. 
This year, there was a great deal of new lighting additions, specifically in terms of equipment. Harriton Student Council rented several LED lights from outside companies, making the process more efficient. Normally, to make lights colorful, the lights department must use gels(pieces of colored cellophane)to color each individual light.
However, these new LED lights were programmed with computers, making the process easier by requiring less manual labor. With LEDs, one light can produce different colors throughout the show, whereas before, one light could only emit one color.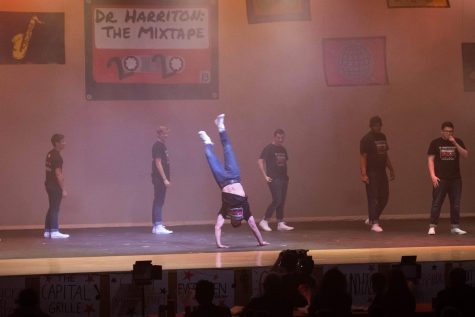 Additionally, there were more moving lights. The lights department has had several moving lights in the past, but they weren't very reliable. Now, after some reparations, they functioned beautifully at the show, working to their maximum potential. 
Accompanying the LEDs was new software this year, which was able to sync the lights to music. Emily specifically shouts out Adam Gilbert, who introduced the software to her.
However, Dr. Harriton this year was not too different in terms of setup. The lights department was still working on the catwalk, an elevated platform at the top of the auditorium where lights are suspended, and the lights against the white backdrop were the same as previous years. Student Council also rented fog machines, which the lights department operated during the show.
Wright was eager to shout out the rest of the lights department, without whom this show would not have been possible, especially Gilbert, as well as Duncan Tasker, who both put a lot of time and effort into setting up the new software. Wright and the whole lights department hope Harriton students, parents, and faculty all enjoyed the show!
About the Writer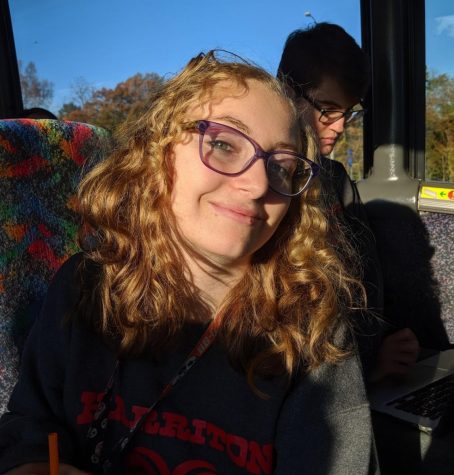 Gabrielle Schwager, Arts & Entertainment Editor
This is Gab's second year on the Banner and first as a section editor! She loves writing about her random passions, which is why she loves A&E so...