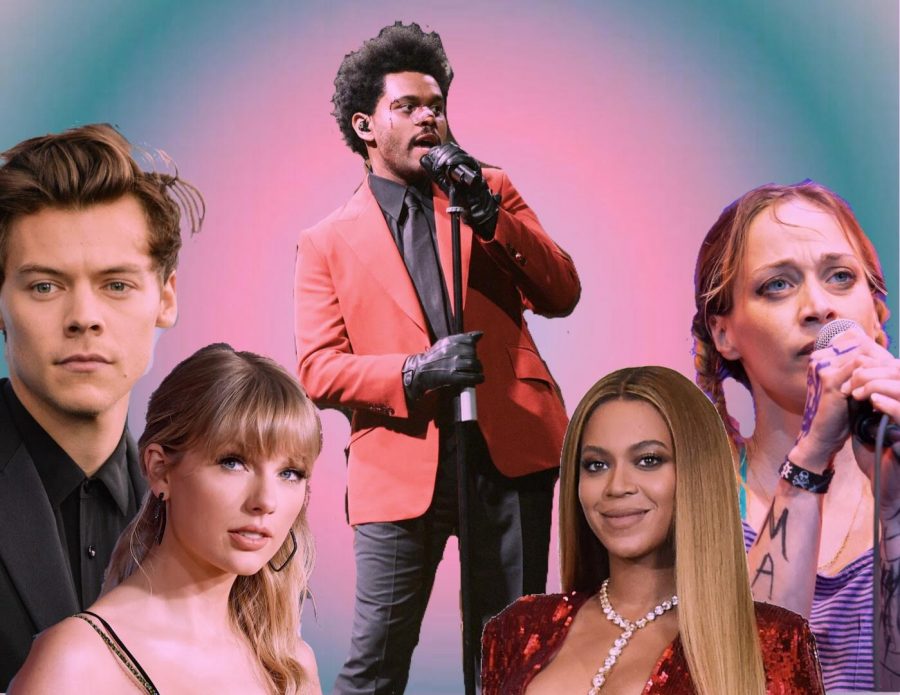 On Tuesday, November 24, 2020, the Recording Academy released their nominations for the 63rd Grammy Awards, often lauded as the most prestigious awards ceremony for music. Beyoncé led the nominees with nine nominations, followed by Taylor Swift, Dua Lipa, and Roddy Ricch with six each. While many were pleased with the inclusion of singers like Harry Styles and K-Pop megastars BTS, it seemed like the commentary surrounding this year's nominees was centered on those who failed to secure a nod. Here is a look at the biggest snubs and surprises regarding this year's nominees in some of the major categories. 
RECORD OF THE YEAR
'Record of the Year,' one of the most awaited categories of the ceremony, included some worthy nominees while failing to recognize a slew of others.
The impact of songs like "Savage," "Say So," and "Don't Start Now" has been undeniable and their placement in the category is more or less warranted. The academy also appeared to double down on their love for Billie Eilish, nominating her single "Everything I Wanted." While the track's lyrical content and dreamy production are impressive, her track "My Future," released during the summer, was a far more progressive and enjoyable song.
Similarly, although "Rockstar" by DaBaby and Roddy Ricch, and "Circles" by Post Malone were two of the year's biggest songs, they were far from the best. If the academy was trying to throw in a token male hip-hop song, they could have gone for "The Box" by Roddy Ricch or Mac Miller's "Blue World."
The shut-out of "Blinding Lights" (as well as the complete shut-out of The Weeknd in general) came as a shock to many who had considered the song a lock and a probable winner when the ceremony rolled around. Finally, the inclusion of "Colors" by Black Pumas, a song that was originally released in early 2019, feels deceptive as it was submitted with the deluxe version of their album released in 2020 (the original was released in July of 2019).  
WHO SHOULD HAVE BEEN NOMINATED: "Blinding Lights," The Weeknd, "Do It," Chloe x Halle, "Shameika," Fiona Apple
WHO SHOULDN'T HAVE: "Circles," Post Malone, "Colors," Black Pumas, "Rockstar (feat. Roddy Ricch)," DaBaby
ALBUM OF THE YEAR
Probably one of the worst assembled categories of the year, the academy voters miserably failed to acknowledge some of the year's best talent while including a stray of unexpected and/or undeserving projects.
The lack of recognition for artists like The Weeknd, Fiona Apple, Mac Miller, and Roddy Ricch is a clear sign of the academy's ignorance towards progressive and respected modern music. A category like 'Album of the Year' would've been a perfect opportunity to recognize an artist like Rina Sawayama, who propelled the genre of pop this year with her punk-rock, electronic influenced Sawayama.
A nomination for R&B duo Chloe x Halle's Ungodly Hour, a critically acclaimed intersectional record, also would've been well deserved. While musicians like Jacob Collier are extremely talented and deserving of awards, his album was hardly publicized and failed to have the same impact compared to many of his counterparts.
The few respectable choices made include HAIM's Women in Music Pt. III and Dua Lipa's Future Nostalgia, two albums that reveled in their respective genres and created a significant transformation for the associated artists.
WHO SHOULD HAVE BEEN NOMINATED: After Hours, The Weeknd, Fetch the Bolt Cutters, Fiona Apple, Please Excuse Me for Being Antisocial, Roddy Ricch, Sawayama, Rina Sawayama, Ungodly Hour, Chloe x Halle
WHO SHOULDN'T HAVE: Chilombo, Jhené Aiko, Black Pumas, Black Pumas, Djesse Vol. 3, Jacob Collier, Everyday Life, Coldplay, Hollywood's Bleeding, Post Malone
SONG OF THE YEAR
Out of the three major categories, this is the one that feels most correct. From songs that reflect the revolution that is the Black Lives Matter movement ("Black Parade" and "I Can't Breathe") to some of the most infectious songs of the year ("Don't Start Now" and "The Box"), many of the inclusions feel warranted.
Still, songs like "Circles" and "If the World Was Ending," whose lyrical content occasionally falls short, could've been replaced by some of the fiery lyricism from artists like Phoebe Bridgers and Fiona Apple, who released two of the best-written albums of the year.  
WHO SHOULD HAVE BEEN NOMINATED: "Kyoto," Phoebe Bridgers, "Shameika," Fiona Apple
WHO SHOULDN'T HAVE: "Circles," Post Malone, "If the World Was Ending (feat. Julia Michaels)," JP Saxe
BEST NEW ARTIST
Best New Artist is one of the trickier categories, as the rules that constitute who is considered a "new artist" are quite vague. The inclusion of artists like Kaytranada and Phoebe Bridgers, although extremely warranted, feels like a failure on the academy's part, categorizing established artists as new.
Additionally, the inclusion of Noah Cyrus, although a talented singer, feels premature, as her main form of notoriety comes from her famous family and not her musical discography. A more inventive and trailblazing artist like Japanese-British Rina Sawayama would've been a more fitting nominee.
The nomination of D Smoke, whose music sometimes feels like a Kendrick Lamar impersonator, would've been more deserved by a rapper like Pop Smoke, whose rugged rap style cemented his place in the industry, despite his tragic death. 
WHO SHOULD HAVE BEEN NOMINATED: Rina Sawayama, Pop Smoke
WHO SHOULDN'T HAVE: Noah Cyrus, D Smoke
Along with these categories, music fans were surprised to see The Chicks—who won the 2006 Album of the Year Grammy—not nominated anywhere for their album Gaslighter, as well as country artists Luke Combs and Maren Morris. Some were also disappointed in the lack of nominations for Bob Dylan, whose Rough and Rowdy Ways was considered a return-to-form for the legendary singer-songwriter. 
Justin Bieber's complaints about being included in the pop categories for his dull and uninspired pop album Changes, instead of the R&B categories, reads like a young kid whining that he wanted the pink Starbust and not the red. 
The undoubtedly most shocking snub was The Weeknd, who received zero nominations for his trailblazing and chart-topping 2020 album, After Hours. The artist, who has already won three Grammys, was a shoo-in for the major categories, along with an array of the other pop awards. When his name was nowhere to be seen, music fans began trying to decipher why he was missing and whether he had even submitted at all.
In a tweet from November 24, it was evident that he had submitted, and was not pleased with the results, tweeting, "The Grammys remain corrupt. You owe me, my fans, and the industry transparency."
It was later rumored that an ultimatum between performing the Super Bowl (which he will be doing in February 2021) or performing the Grammys (which he passed over) was the cause of his shut-out. 
Like always, though, there were an array of pleasant surprises, primarily in the "Best Rock Performance" category that featured all-female vocalist nominees, including Fiona Apple, Phoebe Bridgers, HAIM, and Adrienne Lenker of Big Thief. The recognition of Freddie Gibbs & The Alchemist in the Best Rap Album category was another pleasant surprise, with Gibbs being one of the most consistent and talented rappers of recent years. 
Overall, the 2021 Grammy nominations aren't all too surprising. It seems every year they fail to nominate a major artist, or recognize obvious talent, so their inability to do so this time around didn't come as a shock. In February 2021, the ceremony will be held and with it will undoubtedly be a new wave of controversy surrounding the winners.