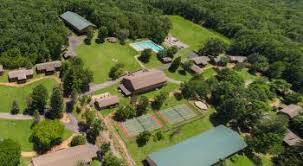 Throughout the summers, overnight camps are home to thousands of children across the US, surrounded by friends and joy, for camp administrators make it possible with planning and dedication.
There are many aspects that go overlooked when it comes to running an overnight camp. How food is rationed, how each camper is accounted for, and daily schedules are just a few examples. With the overload of campers, it can be hard to keep track of every single individual.
To do this, camps have an abundance of counselors. They also have division leaders to supervise those counselors, ultimately being an overseeing authority of a large group of campers and counselors.
Jamie Austin, a division leader at Camp Lindenmere in Poconos, Pennsylvania and a graduate of Kutztown University, where she earned a degree in Special/Early Education shares, "As a DL I was basically the counselor for all the counselors! I also was the liaison between camp and the families and parents; I would communicate regularly to let the parents know how their kids' summers were going and throughout the day I would check in with campers at activities!"
Divisions are broken up by age group, and it helps take the pressure off the directors of the camp, for instead there is one more line of authority. In 2019 Jamie had around 40 girls for the summer, so when guardians wanted information or updates on their campers, it was Jamie's job to know what was happening and to communicate that to them.
Another line of authority that helps the camp run smoothly, are department heads.
Haley Garfinkel is an assistant director at Camp Lindenmere, has been with Lindenmere for 14 years, and has a Master's Degree in Child Development from Vanderbilt University and a Bachelor's Degree in Early Childhood Development from the University of Central Florida. She explains, "Their [department heads] job is to oversee their department, the counselors that work within their department, and the planning and implementation of the activities run within their department."
Each year at Camp Lindenmere there are about 15 department heads, and some departments have an assistant director if the size of the department calls for it. Department heads are another aspect of how Camp Lindenmere is able to run smoothly, for everyone has their specific jobs at hand, that contributes to the well being of the camp.
Overnight camps such as Lindenmere typically have hundreds of people, both campers and staff, on the campus at a single time, so you can see how it might be hard to predict the amount of food needed on a daily basis. Being an assistant director, Haley Garfinkel knows all about this.
"Due to having a restaurant background we are able to order and prepare food based on portion sizes that children typically would eat. It is also important to have proper storage and carry enough food so that in the event you underestimate the amount of food, you can have backups to cook. We order our food through a number of different purveyors. Each one specializes in what we order from them so that we have higher quality and better pricing."
As one can imagine, it is also hard to bear the different types of food to fit different child's needs. There are staff and children with allergies, food restrictions, and diets such as veganism. Camps tend to have lots of different options during meals to help satisfy those needs.
Finding reliable staff such as counselors is such an important component of running an overnight camp. Haley Garfinkel explained this process.
"We work with many different agencies that help to recruit counselors. This process is mutual, counselors will choose a camp that seems to be a good fit for them and in return, after the interview process, we will decide if we feel they will be a good fit for us at camp."
The counselors are hired once the camp knows for sure they will be a good fit and are the best possible choice for that position. Once they are chosen, they attend a one or two-week orientation session, depending on their specialty, before camp. They are trained for camp and important pieces of being a counselor.
Another way Camp Lindenmere finds reliable staff is through their LT (leadership training) program. In this program, the eldest campers who are 17 and 18 years old, work with the current staff members, in areas of their personal interest to gain experience for that particular activity.
LT's could gain experience in glass fusion, the ropes course, trapeze, and more. Along with this training, LT's watch a bunk during Rest Hour 1 day a week. After one or two summers of this program, they can become counselors.
Sam Benton was a camper at Lindenmere for eight years and in the Leadership Training program in 2019. He knows the ins and outs of everything camp.
"Camp is the best. There is nothing quite like it. It's my summer home. The friendships and memories I've made in my 8 summers are enough to last me a lifetime. Camp is 6 weeks of pure joy in a bunk with your best friends. My camp friends have become family and the bonds we have made are unbreakable."
Camp Lindenmere has everything down when it comes to orchestrating all the tiny details that make it possible for it to run the way it does, but it has also managed to make it so many children's favorite places in the whole world and grants them with memories of a lifetime.