Harriton Competes in Philadelphia Model UN Conference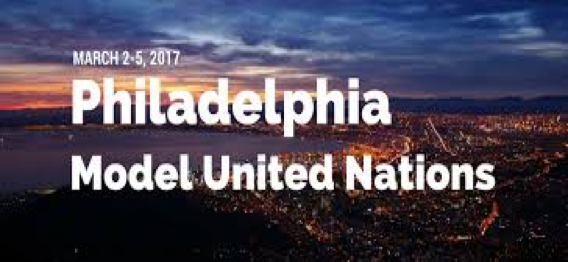 Hang on for a minute...we're trying to find some more stories you might like.
From March 2 to March 5, Harriton's Model UN team competed in the Philadelphia Model United Nations conference. The team consisted of eleven students and won the award recognizing the best small delegation. The conference was held in Old City Philadelphia and spanned three and a half days.
The regional focus for this year's competition was Africa. There were several committees at the conference, including the FIFA Council, the Commission on the Status of Women, and the World Tourism Organization. These committees focused on topics such as child labor, maternal health, human capital investment, and fighting corruption.
The team worked tirelessly throughout the competition. In three committees, delegates were woken during one of the nights to deal with a crisis (in Special Health, there was an Ebola epidemic, in Tunisian post-revolutionary government, terrorists launched a domestic attack, and in FIFA, a new presidential election was necessary).
Mr. Warren, the club's sponsor, explained how diligently the students worked throughout the weekend, "They used working lunches and dinners to further discuss the topics."
Harriton's Model UN club was well prepared and utilized all its resources to help win the competition. Joe Magee-Billson, a Harriton senior, won an individual award. Joe was part of an advanced committee focusing on the International Criminal Tribunal for Rwanda.
When asked how he won the award, he commented, "I was able to synthesize the information and present it in the most attractive way."
Public speaking was equally as important as being prepared at the competition.
If you are interested in joining World Affairs (a related club run by Mr. Warren) or Model UN, please contact Mr. Warren at [email protected]