A Visual Arts Update
Laura Johnston
Staff Writer
Once you enter Harriton's lobby, the first right takes you into the visual arts wing.  The wing is two floors and features seven classrooms, easily identifiable by the posters and student artwork hanging on the walls.  In the old building, the visual art classes were scattered throughout the "C" building, and were divided into four separate rooms.  Class options included Art 9 (which incorporated both studio art and art history), Art Honors, Crafts, Film & Photography, and IB Art SL and HL.  This year, Art 9 and Crafts were removed from the curriculum, replaced with the half-year courses of Ceramics and Metal Arts.  One would expect the change in setting and expansion of space to affect Harriton's art programs, so I interviewed Art 3 Honors student Monika Maj and art teacher Mr. Murray to get the lowdown.
Harriton Banner: What art class(es) did you take last year?
Monika Maj: Art 2 Honors.
Harriton Banner: What art class(es) do you take this year?
Monika Maj: Art 3 Honors and Film/Photo.
Harriton Banner: How do you feel about the switch in environment? Is it a positive one?
Monika Maj: The new classroom just seems like a white room and labeled as the art room, the older rooms were more 'homey' and customized.  But there is a lot of room in the new art rooms.  It's a neutral feeling.
Harriton Banner: What are some new things offered that you particularly enjoy?
Monika Maj: New things that I enjoy are the new materials, like the new easels and taborets; those are nice.  Also the new, advanced projectors in the Film/Photo classroom are really convenient.
Harriton Banner: How have the new classrooms and materials affected your art?
Monika Maj: All these new materials add somewhat of an excitement in painting and more of an eagerness to learn.  I look forward to my art classes everyday!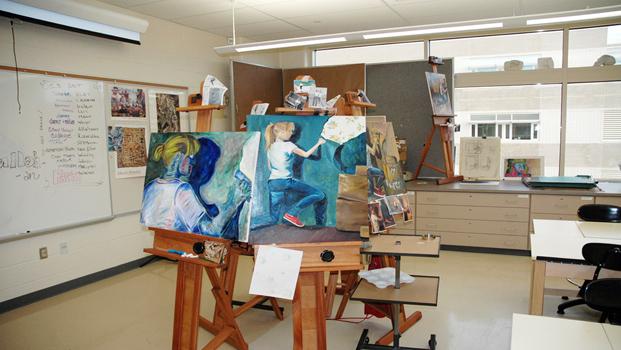 Harriton Banner: Have the art programs been affected by the change in classrooms?
Mr. Murray: Absolutely yes, for the better.  I always felt fortunate to teach art in a school district that so valued the arts.  But now I'm even more grateful because our facilities are the best of any high school I've visited, even better than most colleges and art schools.
Harriton Banner: Have there been any additions to the art curriculum?
Mr. Murray: The classes have changed dramatically with the addition of three rooms that brings us up to seven studio spaces- we were able to specialize.  No longer are we teaching a ceramics class in a room of computers, full of materials for painting and print making.  We now have dedicated spaces for specific areas of study.  Our ceramics room has 18 potters' wheels and tables specially made for working with clay.  We used to have four classrooms, three of which were not designed to be art studios.
Harriton Banner: What is one of your favorite features of the new art classrooms?
Mr. Murray: Our rooms have northern light, they're airy, spacious and they actually have huge closets for storage [in contrast to the classrooms in the last building].
Harriton Banner: Are there any negative aspects to the switch?
Mr. Murray: I can't find a negative; it's a clean, bright atmosphere where we have controlled light and substantial storage.
Harriton Banner: Have you seen a change in student art or the number of attendees?
Mr. Murray: I have: I would say the two programs that have seen the greatest impact are the metals and ceramics classes.