Inside the Minds of the 9 To 5 Leads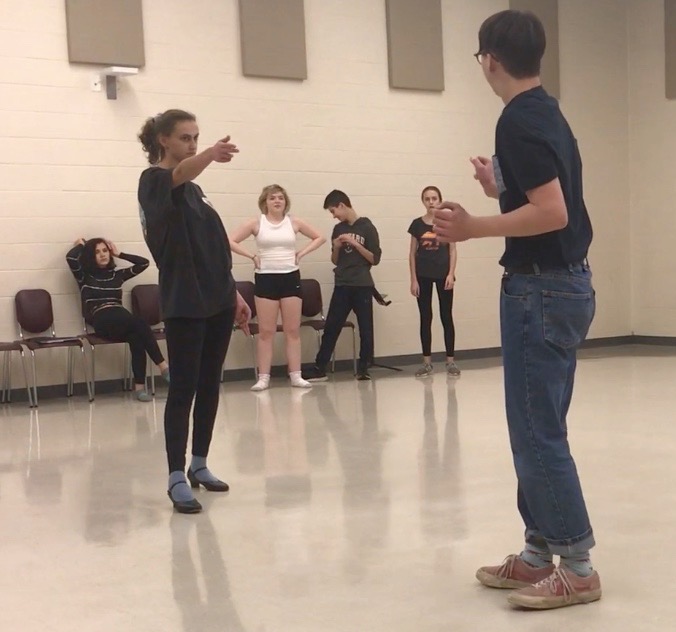 Nick Biglin, Assistant Communications Director
March 17, 2020
Prior to Harriton's two-week school shutdown, Harriton Theater Company's (HTC) spring musical planned to run from Wednesday, March 25th to Saturday March 28th. This year's musical is an adaptation of the hit 1980 comedy film 9 to 5, following a group of three working women at a company who finally get fed up with their misogynistic boss and decide to overthrow him and take control of the office.
The four leads of the production are Kari Stein as Judy Bernly, Olivia "Liv" Twomey as Violet Newstead, Jacqueline Kelly as Doralee Rhodes, and Henry McCullough as Franklin Hart.
All four of these actors have had past experience with HTC. Kelly, McCullough, and Stein, all three seniors, have been involved in the HTC community since their freshmen year.
Kelly started acting that year, while Stein began her sophomore year, and McCullough in his junior year. Previously, Stein and McCullough had been involved with the lights department, and still remain so through this show. Twomey, the only sophomore, also joined and started acting in her freshman year.
The three female leads have a broad range of outside experience with singing from when they were younger, or through involvement in Lower Merion chorus. Kelly is also the co-director of Harriton's a capella group, Pitch Please. McCullough, the only singer with no prior experience, took voice lessons in preparation for the role.
The leads were excited by the show's message of female empowerment. This was an especially opportune show for the current company as there are a great deal of strong actresses. Not only that, but also the leads appreciated the show's comedy and catchy music.
Twomey, Kelly, and Stein both expressed that in certain ways they related to their characters, while McCullough, who plays the antagonist boss, was understandably eager to disavow feeling connected to Mr. Hart. McCullough is no stranger to playing villains; he was the clumsy Captain Hook in this year's fall production of Peter and the Starcatcher. However, McCullough felt that this was the first truly evil character he's played, with Hook being more comical. He thinks part of the satisfaction of the show is watching him get what he deserves.
The actors mentioned that their favorite songs of the show are "Here for You," "The Dance of Death," "One of the Boys," and "Get Out and Stay Out."
All four enjoyed the close-knit cast experience of this show. Stein said that she enjoyed working with many of her closest friends, and Twomey thought it was really fun to get to know all the seniors. 9 To 5 is shaping up to be another fun-filled comedy-musical, led by four talented leads.
Hopefully, the show will be able to run before the school year ends. The Banner will post updates this story as to HTC's plan in response to the Covid-19 shutdown, as more information becomes available.