Trump to Defund PBS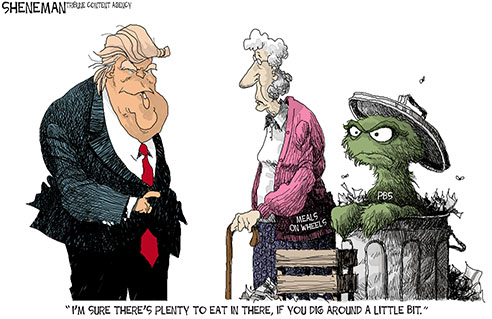 A show that has been running a classic joke for decades has finally caught the attention of President Donald Trump himself. Ever since its first parody in the late 1980s, Sesame Street has featured Ronald Grump living in his notorious "Grump Tower," or trash cans stacked upon one another.
Over the course of Grump's time on the show, many of the behaviors of the fictional character were purposely designed to parody those of Trump; Grump conned Muppets into signing contracts, flirted with female Muppets, and pitted the Muppets against one another.
Sources such as the Washington Post, USA Today, and Philly.com have found several other examples of Donald Trump references.
Now, decades later, Trump wants to add PBS to the list of services he plans to defund. In this case, Trump's proposed budget would cut $485 million from public broadcasting, one of the main maleficiaries being PBS. Though it is not confirmed that his motives for cutting funding are due to Sesame Street, few are surprised by this decision, as it follows many defunding decisions made by the President.
Though the public is not very surprised by Trump's statements, it has not brushed them away just yet. Fans of the show, young and old, have collaborated to speak against the proposal by creating a video on YouTube called "Elmo Gets Fired," which parodies the effects of Trump's future proposal.