Student Walkout: Call to Action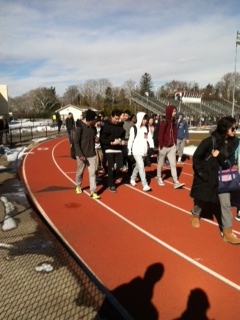 Hang on for a minute...we're trying to find some more stories you might like.
Here is another of the speeches given at the student walk out. This by Kayla Finn.
Looking at all of you gathered here, I am struck by how powerful our generation is. I know how easy it can be to watch the news and feel helpless to do anything. After all, we're "only teenagers." But there is a reason that pop culture always shows teens leading the revolution. We are idealistic, we are engaged, and we refuse to believe that things can't get better.
Adults have been fighting the gun control battle for years, but nothing has changed. There was Columbine, then Virginia Tech, then Sandy Hook. And now Parkland. We say ENOUGH. The government doesn't answer to the NRA, it answers to us. And we say ENOUGH. Today, we honor the victims of Parkland and stand with the survivors to call for change. But we can do more than just walk out of class. We can use our most powerful tool, our voices.
I'm calling on all of you to contact your Congressman, your governor, your mayor. If you text RESIST to 50409, you can instantly contact your representatives. Tell them how you feel about guns. Remind them that the policies they make aren't just policies. They have the ability to save countless lives. So when you contact the government, make it personal.
Channel your sadness, frustration, and anger into a call for action. If you aren't sure where to start, I will be running a table outside the cafeteria during all of lunch today, and I can help you contact our representatives about relevant gun control policies. It will only take a few minutes, but if each of us writes to Congress, they will be flooded with hundreds of letters from our school, and thousands from our peers across the country.
These are our lives, this is our country, and it is time we made ourselves heard.