Harriton Theater Company's "Sherlock Holmes" – A Deeper Look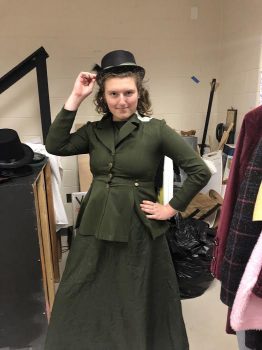 Did you know the Harriton Theater Company (HTC) is putting on a production of Sherlock Holmes in Harriton's Black Box Theatre on November 14th, 15th, 16th, and 17th? Well, they are, and by the looks of it, it is going to be a wonderful show.
As a member of HTC's lighting department, I have had the privilege of watching the show blossom from the very beginning. I recently traveled outside the lights department to interview members of the cast and the costumes department to learn more regarding the details of the show.
Firstly, I had the opportunity to sit down with Nina Gold, who plays Madge Larrabee, to discuss the storyline of the show, how she is preparing for her role, and the strengths of this particular production. Gold describes the plot as "a big tangled web of secrets."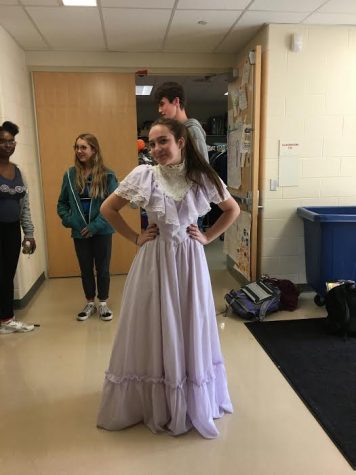 The story involves a prince and his kidnappers, detectives, and blackmail. In taking on the role of Madge, Gold is embodying a type of character which she has not previously had the chance to play: a villain. She has decided to tackle this by diving deeper into the character's background and examining Mrs. Larrabee's "relationship to her husband [and] how her motives may be different from other villains in the play…"
Additionally, she is drawing inspiration from famous female villains like Angela Lansbury's Mrs. Iselin in The Manchurian Candidate. When I asked what she thought stands about this production of Sherlock Holmes, Gold said "…the amount of tension we are bringing to the plot is really engaging…we're all trying to up the stakes." Overall, she said, her goal is to "…frighten the audience."
I also interviewed Ana-Isabela Navarro, a co-head of the Costumes department, to get an idea of what we will be seeing fashion-wise in Sherlock Holmes, and to learn more about her team's creative process. When describing the process of building the costumes, she explained that since the play takes place in the Victorian era, the Costumes team researched the styles and fashion in the United Kingdom of the time.
They made sure to keep the fashion realistic to historical standards. When asked her opinion on costumes in the show, Navarro said, "My favorite is… Nina Gold's costume because she plays Mrs. Larrabee… we made [Mr. and Mrs. Larrabee] match… using burgundy and wine-colored items."
The colors worn by different characters are meant to emulate their personality. Navarro took inspiration from another show in which she had seen this deep red color. For Mrs. Larrabee's costume, the costumes team is selecting elements from two different dresses and combining them to create a Victorian look.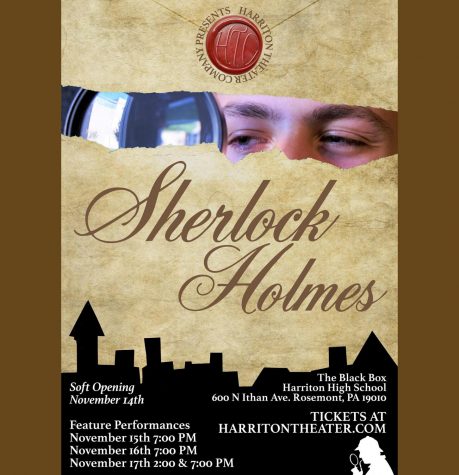 Navarro also states that the palette of the show is filled with "deeper, darker, richer colors." When entering the theater, expect to see actors clad in old-fashioned, stunning costumes, reminiscent of a long-lost era of elegance.
Throughout this process, I got a deep look into the effort being put into every detail of the show. If you are looking to be transported to Victorian England through the creative setup done by stage crew, lights, costumes, acting, and more, make sure to come to Harriton Theater Company's production of Sherlock Holmes!
Showtimes are Wednesday, Nov. 14th at 7:00 p.m., Thursday, Nov. 15th at 7:00 p.m., Friday, Nov. 16th at 7:00 p.m., and Saturday, Nov. 17th at 2:00 p.m. and 7:00 p.m. Tickets are now on sale at www.harritontheater.com. From everyone involved, we sincerely hope to see you there!
About the Writer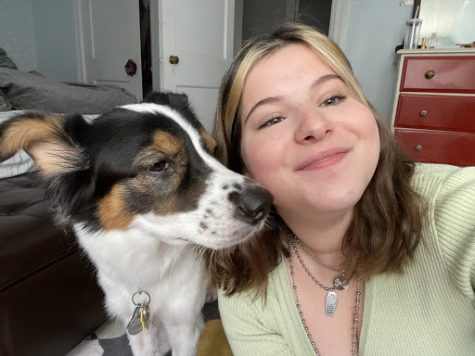 Benna Trachtenberg, Arts & Entertainment Editor
Benna is excited to take on her third year on The Banner's staff! She loves to keep the Harriton community informed on all school and local art events!...