The Nature in Art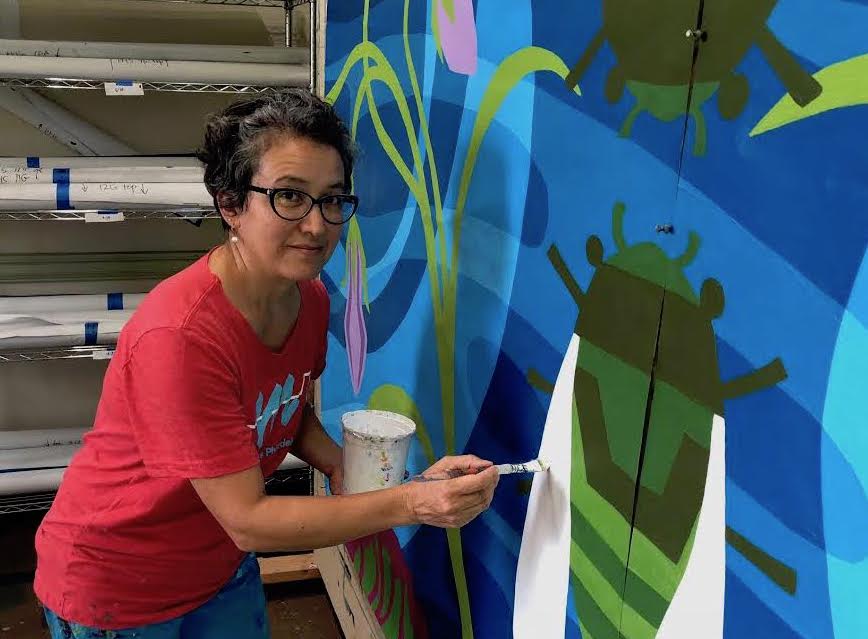 As trees are chopped down, animals struggle to find homes, and the world slowly becomes more and more urbanized. One local artist is promoting the beauty of nature and advocating for its protection.
Artist and muralist Eurhi Jones has been involved in the arts her entire life and has been working on regional murals since 1999. Now, she looks to paint a mural right here in Lower Merion that incorporates the local landscape.
Jones has always loved art. She got her start at a young age by going to an art center, where she began to develop her skills. She also says that "[Her] mom was always introducing craftsy projects" to Jones and her siblings. This creative upbringing allowed her to achieve an incredible artistic and imaginative career.
Whether it's at the Philadelphia Zoo, the Please Touch Museum, or Belmont Hills Elementary School, Jones's unique style, interwoven with natural imagery, can be seen all around the greater Philadelphia area.
Asked about the inclusion of nature in her works, she said, "Nature is an important theme in all of my work. It's fascinating to me to explore how ecosystems work."
Although some may look at her works as grand, cohesive compositions, the tiniest details have a massive effect on her projects.
Eurhi believes "it's equally interesting to observe the architecture of the smallest elements in nature, like pollen or plankton." Additionally, she says that the inclusion of nature in her work has "an important role in environmental activism" and can "draw attention to issues in a unique way."

Her newest stylistic masterpiece, located on Montgomery Ave, shows people biking through Mill Creek Valley and incorporates the local nature. She says that she got the idea for the mural by "talking to the owner of the bike shop," as well as "people in the community who wanted to show the nature in Penn Valley."
The mural's location is deliberate. Jones says that place is a vital factor in creating murals and always considers the location. For example, just this summer she painted a mural in the Philadelphia Airport that was all birds that had been sighted at the nearby sanctuary.
In her newest mural, Jones explains, "The current Penn Valley Mural incorporates the topographical map of Mill Creek."
When examining this mural, you'll also be able to see distinct details from our community. For example, Jones's mural includes species like red oak, white tailed deer, and bloodroot, all native to the area. Although this mural provides color and scenery to a place that was originally lacking, Jones wants people to get more out of it.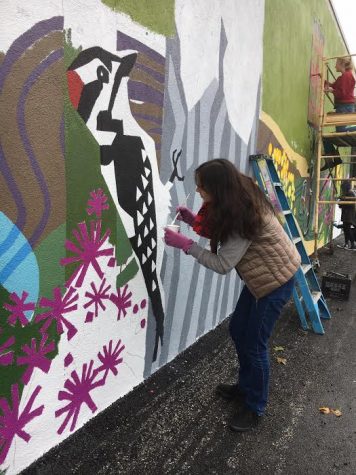 For one, she says, "Native species sometimes struggle to have the space to grow in suburban areas. Gardeners should consider planting native species to help our environment". She hopes that when people see her painting, they feel a personal connection to nature.
Eurhi believes that, "even though this is a suburban area, we are part of an ecosystem and we should strive to protect it".
Eurhi's view on art and the world provides us with a message that we could all learn from; it is necessary for all of us to preserve our earth and promote environmental advocacy through our passions.
About the Writer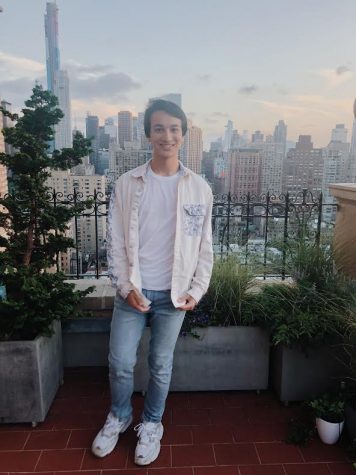 Ty Nagvajara, Arts and Entertainment Editor
Harriton junior Ty Nagvajara is excited to write and edit for The Harriton Banner for his second year. This is his first year as a section editor, and...