Harriton Girls' Tennis Wins the PIAA State Championship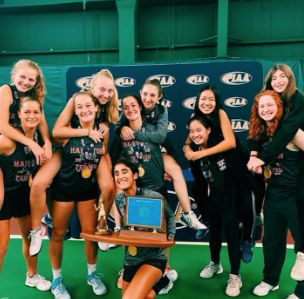 Emma Farber, Staff Writer
December 11, 2018
This 2018 season, Harriton girls' tennis played an undefeated 20-0 season and took home the victory in the PIAA District 1 Class AAA team finals.
The team achieved its second state championship through the coaching of Kathy Rees. Although it was Rees' first season as varsity coach, she was able to understand the strengths of the players and find compatible partners almost immediately into the season.
Throughout the month of September, the girls challenged one another, forming the state team. Seniors Sophia Sassoli, Nina Hoog, Connie Richards, Roshni Parikh, Lauren Binnion, and Erika Lutz led underclassmen Mackenzie Sherman, Saige Roshkoff, Josephine Kwok, Allison Liao, and Shaina Ginsberg to success against their Conestoga rivals in both the District 1 Class AAA Tournament and finals.
Sassoli, Roshkoff, and Hoog played an undefeated singles season while doubles partners, Richards and Sherman faced only one loss. Sassoli completed her last match of the season with a 12-0 victory 6-0, 6-0. Roshkoff won 6-2, 6-1; Hoog won 6-3, 6-1. At first doubles, Richards and Sherman triumphed at the end of their tough match, 6-3, 2-6, 10-4.
Joining Harriton's States tennis team for the first time, Binnion and Parikh brought home the 5-0 win. The girls came a long way, starting out their journey to states with several long, three set matches. The matches would begin with a fast win in the first set and a close loss in the second set. Together, they adjusted to their opponents skills and weaknesses and created a new successful strategy in the third set. In their final match versus Conestoga, the girls were able to win in two quick sets, 6-2, 7-5.
After earning the state title, Sassoli and Roshkoff went on to take the doubles state championship, 6-1, 6-2. The last time Harriton girls won the doubles state title was in 1979. Interestingly enough, Rees' father led the last victory when he coached for Harriton girls' tennis.
The girls are proud to have created a close group bond and hold the most titles out of any team in the state of Pennsylvania.