Science Olympiad Brings Home 21 Regional Medals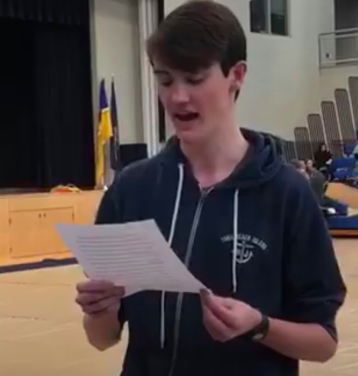 Last Wednesday, the Harriton Science Olympiad team traveled to Neumann University to compete in the Southeastern Pennsylvania Regional Science Olympiad Tournament. The team came home with a second-place trophy, qualifying for the state competition at Juniata College in April.
Arriving on the Neumann campus at 6 a.m., team members competed throughout the day in a variety of challenging topics, including Forensics, Thermodynamics, Disease Detectives, Wright Stuff (which requires building a functional, rubber-powered, single-winged aircraft), Experimental Design, and many others.
Tension and excitement ran high as the team waited in anticipation for final scores to be tallied, and winners announced. As the awards ceremony progressed, the team erupted in applause and shared pride again and again, as member after member walked forward to receive their medal and pose for a winner's photo.
A total of eight gold medals, four silver medals, four bronze, and five fourth-place medals were awarded. Upon the declaration that Harriton placed second overall, all of the members, including those who did not compete, came forward to accept the award and pose for a group photograph. Of note, Harriton lost to Lower Merion for the first time, by nine points.
On a side note, Science Olympiad also includes a Division B for middle schools. Bala Cynwyd placed first in Division B, and Welsh Valley Middle School fifth, qualifying both to compete at States.
Harriton has a long tradition of outstanding performance at Science Olympiad. Historically, the team has earned a top-three trophy at Regionals in 26 out of the 26 times it has competed in the past 28 years, and secured first place 18 of those times.
Furthermore, the team has scored in the top ten for the last 25 years it has qualified for the National Tournament.
Among other Science Olympiad teams in the region, Head Coach Mr. Gauvin noted at a team meeting after Regionals, "Harriton is known as the team that improves the most between regional and state competitions."
The team is particularly hopeful because last Wednesday's second place finish shows strong progress from their performance at the MIT Invitational in January, where only seven teams placed, and the team came in tenth overall. In fact, six of the seven teams that placed at MIT placed first at Regionals on Wednesday.
Team captains, Richard Haslam and Ashwini Shende remarked, "We're really proud of our performance, as we medaled in 21 of 23 events. Our team is constantly working to improve, and we're excited to see our hard work pay off at States and hopefully onward."
Harriton Science Olympiad continues to earn the respect and support of many a Ram for their hard work, camaraderie and dedication. Good luck at States, Rams!
A list of the individual event medalists is below.
Coaches: Mr. Gauvin; Ms. Lesch; Mr. Powers; Mr. MacNichol
Gold Medals
| | | | | |
| --- | --- | --- | --- | --- |
| Boomilever | Hannah Klatte | Alex Ahn | | |
| Designer Genes | Sam Weissman | Allison Zhang | | |
| Disease Detectives | Sam Weissman | Kaelyn Klatte | | |
| Experimental Design | Patrick McCann | Allison Zhang | Richard Haslam | |
| Forensics | Monali Zhao | Richard Haslam | | |
| Fossils | Sunme Zhao | Richard Haslam | | |
| Geologic Mapping | Patrick McCann | Sunme Zhao | | |
| Water Quality | Patrick McCann | Allison Zhang | | |
| | | | | |
| Silver Medals | | | | |
| Anatomy & Physiology | Michelle Qin | Ashwini Shende | | |
| Astronomy | Avery Parr | Ashwini Shende | | |
| Sounds of Music | John Neary | Ezra Frank | Michelle Qin | |
| Thermodynamics | Sam Weissman | Avery Parr | | |
| | | | | |
| Bronze Medals | | | | |
| Chemistry Lab | Monali Zhao | Avery Parr | | |
| Mousetrap Vehicle | Sam Weissman | James Powell | Robert Fleming | |
| Code Busters | Michael O'Connor | Sunme Zhao | Allison Zhang | |
| Herpetology | Ashwini Shende | Richard Haslam | | |
| | | | | |
| 4th Place Medals | | | | |
| Dynamic Planet | Sunme Zhao | Patrick McCann | | |
| Circuit Lab | Avery Parr | Michelle Qin | | |
| Fermi Questions | Michael O'Connor | James Powell | | |
| Protein Modeling | Monali Zhao | Ashwini Shende | Hannah Klatte | |
| Wright Stuff | Sarah Lee | Katie Huynh | John Neary | Hannah Klatte |