The AirPods Epidemic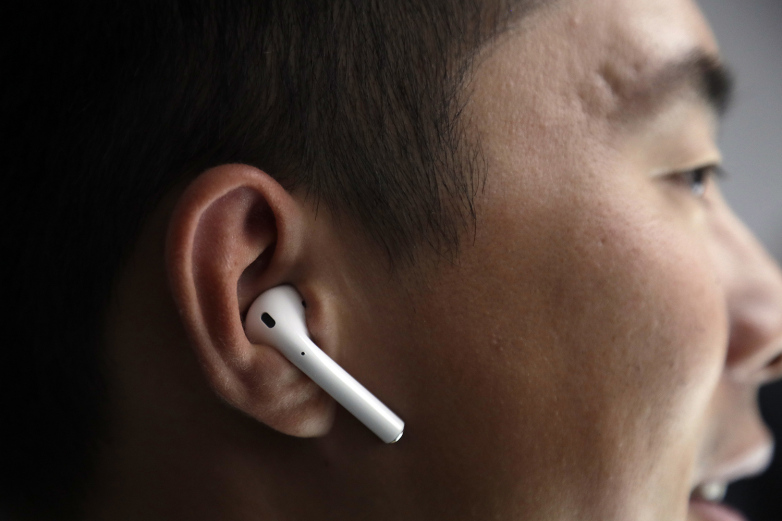 Over the last few months, Harriton teachers have noticed the AirPods epidemic entering their own classrooms. Walking the halls of the school, students can be seen wearing AirPods, Apple's hottest new accessory.
Through Bluetooth, its sleek, small design allows Harriton students to listen to music without teachers noticing. However, while many of you may think your hair covers your AirPods appropriately, teachers are able to pick up on more than you think, even if they don't say anything.
While this is a win for high schoolers everywhere, it brings mixed feelings for Harriton teachers.
Several teachers who we talked to were quite upset. Physics and chemistry teacher Mr. Stevenoski criticized the new trend, saying "I can't imagine how it is pleasant to spend your days with stuff hanging out of your ears. Now if I required you to have a hearing aid, you would be squawking, and when I ask you questions and you don't understand them because you have your AirPods in, then who's fault is it?"
"It's sort of like wearing sunglasses inside," English teacher Ms. Frechie claimed. "You look weird, and you look like you think you have somewhere better to be or something better to do. When you wear them in the context of conversations with teachers and peers in a classroom setting, it suggests oblivion."
History teacher Mr. Santa Maria, when interviewed, simply responded with the profound question, "Should I be concerned if my surgeon is wearing an AirPod?"
Mr. Olster, Math teacher, gave a different opinion, "I think AirPods are very helpful with paying attention in class. I certainly understand the most when I am listening to music and trying to hear someone talk at the same time."
Many wonder why AirPods specifically bring such a ruckus to the Harriton community since students have other ways of sneakily listening to music, like with traditional earbuds. (How does having a cord under your shirt all day not get annoying?)
"Earbuds are bad too, but this is a degree of narcissism," Mr. Stevenoski responded. "When you have [earbuds] plugged in, I can see a wire, and I know it's connected to something. When you have those 'Pods' in, it's like, 'Ooh, do I or don't I? I'm challenging you to figure it out.' How am I supposed to know what is going on in there? You could have some alien-human hybrid talking to you through those darn things."
But, seriously, your teachers are looking out for your best interest. As put by Magistra Cambria, "Latin is such a hard subject that when you are listening to something else, your brain cannot fully function and absorb the amount of information that is for TWO ears. Also, it feels disrespectful for a teacher when the student does not care."
However, it doesn't look like this epidemic will be slowing down anytime soon (Sorry teachers). CNBC reports that sales are expected to quintuple over the next few years, and a new model is set to come out in the next year.
Costing $159, this product is not cheap, but AirPods are widespread at the high school, becoming a symbol of status. So for all of you "anti-corders" out there, we hope you reconsider next time you have to make the decision between listening to your teachers and listening to Sicko Mode or Mo Bamba.