Ram of the Week: Cristina Sniffen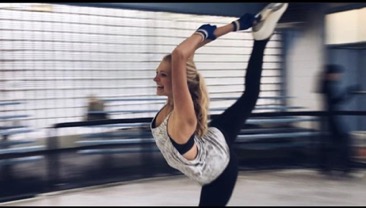 Imagine your stereotypical overachieving high schooler. An athlete, an AP student, a member of multiple clubs—Cristina Sniffen embodies this character as a junior at Harriton. She is a dedicated student athlete who manages to balance her school work, sports, and social life(at the expense of sleep).
In school, you can find her in many rigorous classes or studying in the library. However, when she's not studying, Cristina is playing tennis, softball or ice skating. The Harriton Banner asked Cristina about how she is able to find a balance among all of these activities.
Cristina, like most other students, sometimes struggles with time management and procrastination.
"Skating has taught me a lot about how to make better use of my time. I know I can't procrastinate, so I try to get everything done ahead."
Her schedule consists of AP, IB and honors classes. Her favorite of these is AP Latin.
"This is my second year with the teacher and all the same kids, so we've all gotten really comfortable with each other and can joke around a lot, while still getting stuff done."
Due to her very strict schedule, she wakes up at 5:00 am on days she doesn't have skating to finish her homework.
She also "Relies heavily on lunch and learn to get her work done," and tries to get as much of her work done as she can in class or on her weekly car rides to New York for skating.
However, on the days she has skating, Cristina always plans in advance; she will try to work ahead in her classes and do her homework as soon as it is assigned. Tuesdays seemed to be her busiest days, as she leaves for skating in New York directly after school and then skates for three hours.
By the time Cristina is back home, it is midnight. She starts her homework immediately and is "normally up until 2 AM," waking up early the following day to finish any remaining homework. Although Cristina knows that receiving "4.5 to 5.5 hours"of sleep on Tuesdays and Fridays is not ideal for her health, she made this sacrifice to focus on her skating and academic success.
Finding time for her friends and family is always tough for Cristina. She described her family life, saying "My family has never really been huge on the whole family time together, since it's just the three of us. On the days that I don't have skating in New York, we try to always eat dinner together, but that's basically it."
As for spending time with school friends, Cristina admits it's much harder to plan, especially with the early morning practices on Saturdays. Because she has to be up at 3:30 AM, Cristina says she must be aware of and responsible for how late she stays out, but for that reason, "I almost never am able to have sleepovers with people from home."
In comparison, Cristina is able to spend a lot more time with her skating friends, as they are often in similar situations, juggling competitive skating with school.
Cristina is an excellent example of what many Harriton student athletes aspire to be. Despite her rigorous course load, she still finds time to do well in school and compete in three different sports. Regardless of her busy schedule, she always makes time for her friends and family.
No matter what, Cristina can always be seen with a smile on her face and laughing with her friends.