Can't Miss Bands at Made on the Mainline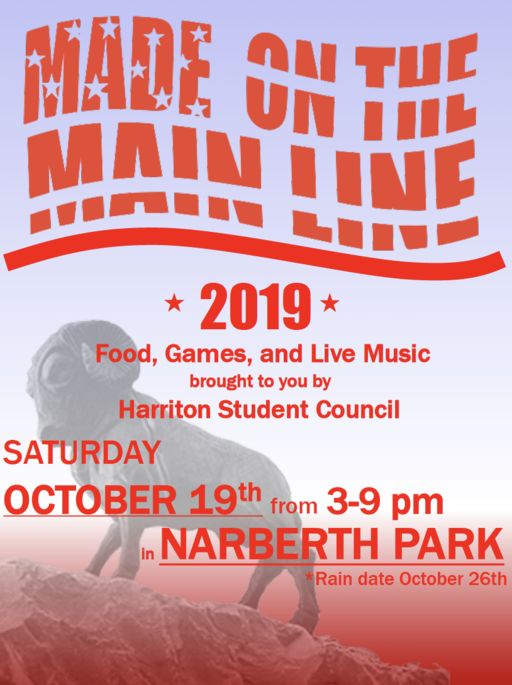 Made on the Mainline, one of Harriton's most popular events, is this Saturday (10/19) from 3-9pm at Narberth Park! Along with fun booths, tarot card readings, bake sales and plant pot decorating, Made on the Mainline is primarily known for its musical performances. 
This week I had the opportunity to interview some of the bands performing this year and ask them about the music on their setlist and musical backgrounds. 
Steal The Dog
Members: Emily Wright (Harriton senior, guitar and lead vocals), Jonah Samuels (Vassar freshman, lead guitar and backup vocals), Connor Sondergeld (Strath Haven senior, bass), and Sam Caccamo (Drexel freshman, drums). 
Steal the Dog was formed in a freshman year Spanish class, when Emily Wright asked sophomore Jonah Samuels, "Hey, you wanna start a band?" 
Inspired and taught by her grandmother, Emily began practicing piano at five-years-old. In third grade, she graduated to viola as, "a rebellion against all the people who played violin." Her father, who was once in a rock band, influenced her to learn guitar in seventh grade. He taught her the basics, but now Emily identifies as primarily self-taught.
Steal the Dog will be performing one or two covers and are most excited to perform their "established bangers," or their original songs. The band comforts and electrifies the indie-punk-folk-rock sound, while drawing inspiration from bands such as Cherry Glazerr, Hippocampus, and Peach Pit. 
You can find Steal the Dog at Made on the Main Line at 5:30 and on Instagram and Spotify @stealthedog. 
Gabi Gamberg
Members: Gabi (sophomore at Lower Merion, who plays guitar and sings lead vocals). She is supported by Max Sundu (Drums) and Charlie Pollock (Bass).
Gamberg is a jack of all trades and master of many when it comes to music. She is a ballerina, actress and of course, a singer. It all began when she started singing as a child, and eventually she began teaching herself guitar at the beginning of freshman year, which she adored.
Her group formed at Berklee School of Music's summer program, after meeting incredible performers and songwriters. Her drummer, Sundu, has worked with acclaimed bedroom pop artist Clairo, and her bassist, Pollack, is distantly related to artists Jackson Pollock.
Her performance will consist of all self-written songs that are inspired by jazz and indie rock artists such as Frankie Cosmos and Snail Mail. 
You can find Gabi Gamberg at Made on the Main Line at 6:30 and on Instagram @noturbagel. 
VIENNA!
Members: Kiefer Wood (lead guitar and vocals), a junior at Harriton and Peter Mihaly (drums and sound mixing) a junior at ArchBishop Carroll.
Peter and Kiefer are a true dynamic duo: friends since childhood, and bandmates since middle school. Kiefer has been singing since a very young age and started playing guitar when he was ten, for "entertainment value and relaxation."
Peter started piano at three, moved onto guitar at six, and finally found his true love at ten years old when he first played the drums. On that he says, "And I knew then, that was my instrument, my passion." 
There was no real official start to VIENNA! Peter and Kiefer started playing together one day, and it morphed into a project. At first, the two covered Panic! At The Disco, Twenty One Pilots, Highly Suspect, etc. Now the duo focuses on some old classics and new favorites. 
In writing their music, Kiefer talks about his need for music as an outlet for hectic high school life, saying, "I'll take all that information and I'll just create."
He finds inspiration in James Dean, and Billy Joel (whose song they named their band after). For Made on the Mainline, they are playing their so called "Jam Out Set," full of fun upbeat tunes–old and new–to get the crowd pumped and happy. 
Find VIENNA! at Made on the Main Line at 4:00 and on Instagram @official_vienna_.
Get to know the musicians!
| | | | | |
| --- | --- | --- | --- | --- |
| Question | Emily | Gabi | Kiefer | Peter |
| Do you know how to change a tire? | No | No | Yes | No |
| What's your favorite type of tea? | Vanilla | Sleepytime | Jasmine | Chai |
| Favorite Animal | Raccoon | Alpaca | Dog | Platypus |
| Favorite Movie | Ferris Bueler's Day Off | Lady Bird | Rebel Without a Cause | Whiplash |
| Dream Job | Elk Biologist | Musician | Musician | Musician |
| How many siblings do you have | 1 | 2 | 2 | 8 |
| Favorite Food | Udon Noodles | Mac and Cheese | Lobster | Sushi |
| Fashion Icon | Iqra Ataf | Rowan Blanchard | James Dean and Max Kane | Still searching for one |
| Favorite Coffee Shop | Hot House Coffee | Mocha Mots | Mugshots Coffee (where VIENNA! played its first gig) | Mugshots Coffee (where VIENNA! played its first gig) |
About the Writer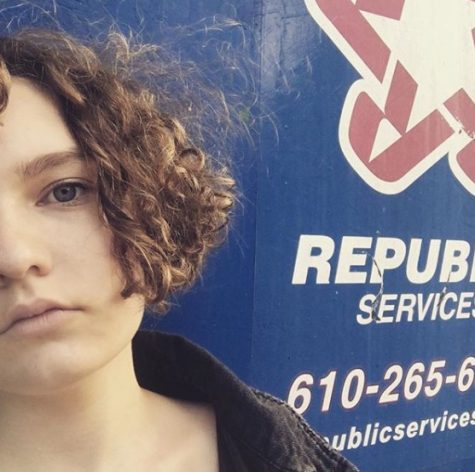 Sammy Biglin, Opinions Editor
Sammy is so psyched to be an editor this year, and be back at The Banner for her fourth year as a writer! She can't wait to hear all of the opinions that...