Oktoberfest for a Cause: The Focus Foundation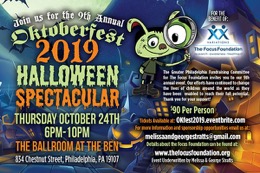 In its tenth year, the Focus Foundation fundraiser's  will be held on Thursday, October 24, from 6-10 PM at the Ballroom at The Ben in Philadelphia. The Oktoberfest theme is "Halloween Spectacular."
For the past nine years, one Lower Merion family has hosted the Focus Foundation's Oktoberfest to help promote awareness for X & Y Chromosomal Variation Disorders.
The event attracts a large community of people each year and includes dinner, a live and silent auction, and a presentation by leaders from The Focus Foundation along with families affected by chromosomal abnormalities. Over 9 years, Oktoberfest has raised more than $1.5 million.
Regardless of the fundraiser's fiscal success, the organization's main goal for this event is to help spread an understanding about the challenges of X and Y Chromosomal Variation and support those affected by these difficulties.
The Focus Foundation, located in Davidsonville, Maryland, was founded by Jacolyn Bucksbaum and Dr. Carole Samango-Sprouse, who seek to "improve the lives of each and every child with an X and Y Chromosomal Variation world wide."
Through increased awareness and early identification and syndrome-specific treatment, the foundation believes "children with these conditions can reach their full potential."
The organization's methodologies are centered around early detection, innovative research, and increased awareness among healthcare professionals, parents, and educators to ensure optimum development for each child.
This organization proves that all types of children—especially those with developmental challenges—can teach the community how to look at life through a different lens: one that is transformative through compassion, empathy, and love.