The 2019 IB Retreat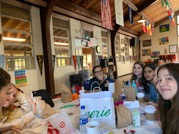 On October 21, 2019, approximately fifty Harriton students boarded school buses to head to an overnight trip in Horsham, Pennsylvania. The occasion?
The annual IB retreat. This year, the retreat was held at College Settlement Camp and included various team and partner bonding activities, a bonfire, and a talent show.
Many agreed that the highlight of the retreat was the talent show on the first night. Several students participated, either as contestants or as workers behind-the-scenes.
"It was goated," said student Jared Markowitz, who volunteered to MC. Some of the talents showcased were dancing, singing, beatboxing, and card tricks.
Audience members Sarah Singer said, "It was really cool and the energy was high."
Earlier in the night there was a bonfire. All of the IB students who gathered around the fire were given an opportunity to share something about themselves.
"I learned a lot about my peers," Bre Beasor commented.
Some students played music or shared random objects of meaning. One student, Dario Bencardimo, chugged a bottle of hot sauce.
During team-building exercises in the woods, students split into groups and crafted creative team names. Annika Ridky's team was called "the IWBATs" (a reference to IB's history class's assignments).
Teams were challenged to wall-climb, balance a human seesaw, and weave through a "spider web." Team spirits were high; student Sophie Weinstein reflected, "team Trashcan dominated on the A frame."
While the last day was focused on group activities, the first day was focused on partner work and trust. Mini competitions of transporting blocks and leading someone blindfolded were just a few of the events. IB Coordinator Tom O'Brien joined in, too. Student Mandy Becker said these drills "really helped you trust in your partner, especially when you're blindfolded."
Students described their living situation as "rustic" and "intimate." Each cabin hosted a bathroom and 3 rooms. Two of the rooms were filled with bunk beds, and the third room, which Ms. Frechie called "the nanny quarters," was for the teacher chaperone.
Erika Kurre said, "The sleeping situation created new friendships and bonding… Despite all of the bugs."
When the IB students returned from the retreat, they felt relieved to be back in their own beds, but grateful for the opportunity to connect with one other. Grayson Morgenstern described the overnight as one "big experience."
The IB retreat has become known as a rite of passage, kickstarting the camaraderie for each incoming class of IB students.
About the Writer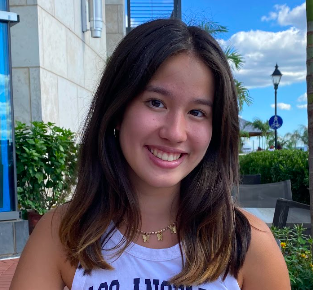 Camille Furer, News Editor
This is Camille's fourth year as a writer and second year as HNews Editor at the Banner. Camille loves writing about events happening in the LMSD community...