Ram of the Week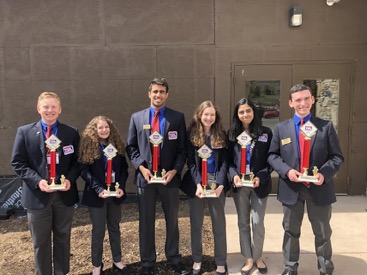 School can be challenging when trying to juggle academics and extracurriculars, yet Harriton junior Ari Beal has gotten it down to a science. Since the beginning of middle school, Ari has been an avid member of TSA (Technology Student Association).
In TSA, students compete nationally and internationally in various events including building, research, and computer, to "enhance personal development, leadership, and career opportunities in science, technology, engineering, and math (STEM)."
Being a part of such an intellectually rigorous club has helped Ari obtain a set of skills that he will carry with him past the walls of Harriton; he adds, "for example, on the state level, each event requires a [leadership-focused] interview which helps students get ready for the real world with public speaking experience and interview experience."
After being involved in TSA for 6 years, Beal, along with other students, understands how time is critical.
"I personally managed IB and my extracurriculars by working through lunch and learn. I think it is a great resource to go visit teachers or work on some homework you can't get done after school."
Ari further explained how he takes advantage of the opportunities offered at Harriton and why all Harriton students should do the same.
Beal hopes to demonstrate to colleges how he has acquired a strong sense of leadership and responsibility. He understands he will eventually have to move on from TSA and pass his knowledge onto other generations.
"I am really looking forward to seeing how the freshmen grow and first year members grow throughout the course of the year."
As with any activity, newer members often look up to the older students, and as a junior this year, Ari plays an impactful role in mentoring the underclassmen to find success in all aspects of TSA from winning at the national level to creating connections that extend beyond the organization itself.
Ari serves as a role model for the Harriton community through his efforts to push himself academically inside and out of the classroom.