Yale Certamen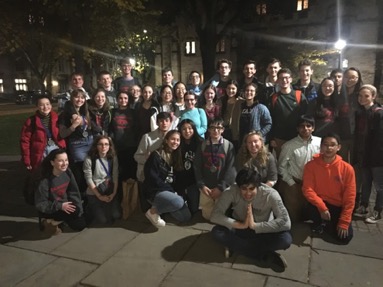 Three teams of four members sit under warm stage lights. One of them—holding a buzzer slick in sweat—anxiously wipes his hand on his shirt between questions. The fifth of five tiebreaker questions looms in the air to decide the second place winner at the intermediate level. Harriton's team is tied with the opposing team, each team riding on one final question.
"What people, also named Tyrsenians after a son of Atys who led them to Italy, sent an army under their general Tarchon to aid Aeneas by providing him with a force to match that of Turnus?"
Quickly, Harriton team mythologist, Camille Seignourel, buzzed in: "The Tuscans."
The moderator pauses, checking the answer, "… from Tuscany," she adds. With the judges exchanging concealed whispers in deliberation, the minutes extend themselves into what feels like an eternity. Then the moderator steps back up to the microphone and announces, "We'll accept that."
The room erupts into deafening screams, cheers, and applause.
Certamen is a Latin quiz bowl in which teams of up to four compete in questions relating to Latin grammar, Roman history, Greek and Roman Mythology, and general Roman culture. This year Harriton's Certamen chapter brought 9 teams: four at the novice level, three at the intermediate level, and two at the advanced level.
One team made history by being the first team to ever place (first, second, or third) at the Yale competition. That team competed at the intermediate level and was comprised of team captain and culturist Alex Aukburg, grammarian Nicholas Biglin, historian Violet McShane ,and mytholgist Camille Seignourel.
Not only did this team win second place, but it did so by playing two quite intense Certamen rounds: only qualifying for finals and winning second place by single tiebreaker question.
One other team that made history was the advanced team comprised of team captain and literaturist Sunme Zhao, historian Michael O'Connor, mythologist and historian Joseph Challissery, and grammarian Patrick McCann, who were semi finalists at the advanced level for the first time in Yale competition history.
Competing in Certamen is very difficult and an exceptional time commitment. Regardless of placement, all teams performed exceptionally. Congratulations to all teams!
Competing Teams:
* denotes semifinalist
Novice:
Camilla Trotti (10), Annie Aspesi (10), Nathaniel "Nate" Johnson (10), Logan Ebner (10)
*Surya Penna (9), Hana Boulware (9), Jadyn Gelfand (9), Willa Salmanson (9)
*Noah Xu (9), Soren Stein (9), Cornelius Nichilo (9), Christian Potts (9)
*Norah Mezey-McMahon (9), Clara Zhu (9), Angelina Lee (9), Alexandra "Allie" Hollin (10)
Intermediate:
Jeff "Jeff-O" O'Neil (11), Eli Feldman (10), Nicholas "Nick" Masterman (11), Christopher "Teddy" Molineaux (11)
*Tatianna "Todi" Skorupski (10), Julia Lester (10),Gabrielle Schwager (10), Katherine Messick (10)
2nd place: Alex Aukburg (10), Nicholas Biglin (10), Violet McShane (10), Camille Seignourel (10)
Advanced:
*Joseph Chalissery (10), Patrick McCann (12), Sunme Zhao (12), Michael O'Connor (12)
Nina Hollin (11), Sophie Boulware (11), Riley Wexler (12)
About the Writer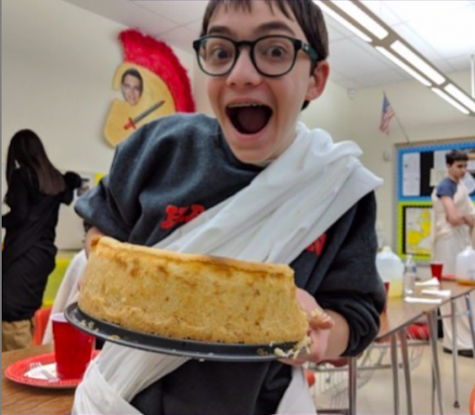 Nicholas Biglin, Communications and Marketing Director
Nicholas is a junior and this is his third year with the Banner. He directs communications and writes primarily for Arts & Entertainment. His main...