IB International Night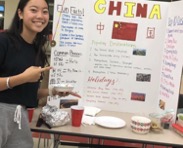 On Wednesday November 20th, the Harriton cafeteria was filled with colorful posters, food, and information about over 20 different countries around the world. International Night, run by IB seniors: Jonah Remer, Lucy Dwyer, Kat Berberian, Matthieu Benoit-Cattin, gave Harriton students the opportunity to research a country of their choice and create a poster and food to share. The night also featured several musicians, including both Harriton students and teachers.
France, Greece, China, South Korea, Israel, along with many more countries, were displayed. The French table featured a fresh crepe making station, an assortment of cheese and crackers, and information on the French and the country itself.
The Greek table, run by juniors Madi Stavrianos, Niosha Parvizi, and Sophie Weinstein, consisted of an abundance of traditional Greek food and drinks as well.
"Everyone is really happy and there are good vibes," Sophie described. "Everyone is eager to learn about the different countries here tonight."
The China table, featured a colorful poster with fun facts and homemade dumplings. IB junior Erika Kurre, who helped run the Korea table, recounted her experience saying, "[It was] interesting to see all of the different cultures, try different foods, and learn about each unique country."
Harriton students and teachers can agree, International Night highlighted the different cultures that exist both inside and outside of the Harriton community. Students are also aware that this event was a unique experience that not all students across the United States are able to have.
"We are very fortunate here at LMSD to be able to have the resources and people to make this night possible," IB Junior Camille Furer acknowledged. "Don't worry if you missed out this year; there's always next year to look forward to!"