The IB Program Visits New York City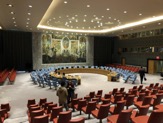 On Tuesday, November 26, IB students from Harriton High School visited New York City. This trip included a visit to the UN, participation in a theater workshop, dinner at Applebees, and a Broadway show. Students were excited to attend this trip, as it is regarded throughout the IB program as a treasured tradition. 
The day began at 7:30 AM when students boarded the buses, but they reached New York around 10 AM. Students first attended a tour of the United Nations. They were able to see the different chambers where meetings were conducted, as well as some of the UN's unique features, like its artwork and historical artifacts.
IB junior Sofia Stefan described the tour as "interesting" and "a cool experience." Others like Niosha Parvizi agreed, adding that it was "incredible," and she was "glad to have enjoyed it with [her] IB peers."

After the UN tour, students climbed back onto the bus and headed to a theater workshop. The two options were stage combat or improvisation, both of which were taught by experienced theater teachers.
During stage combat, students were taught how to appear as if they were fighting on stage in front of an audience without throwing any actual punches. Improv consisted of acting through quick thinking and no preparation, which was a new skill for many of the IB participants. 
After a 30 minute walk in Times Square, the group dined at Applebees. Many said it made them feel like "true New Yorkers." According to Olivia Kim, "dinner at Applebees really did slap in an unexpected way." Students sat together at tables and engaged in conversation and bonding experiences over burgers and fries.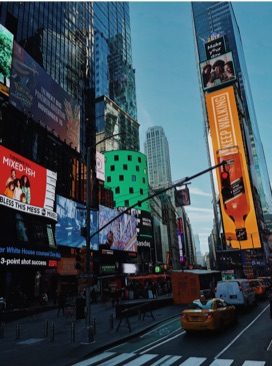 The last activity on the itinerary was the famous Broadway performance of To Kill a Mockingbird. This was a popular event among many of the students, who enjoyed seeing some celebrity actors and a high-quality and lively performance of the famous book.
Several students, including Mandy Becker and Dara Bleznak, noted how "it was interesting to see the novel we read last year come to life as a play."  
The show ended around 10 PM, but IB students were still fueled from a day of adrenaline. Many students crowded around after the show to get their playbills signed, another well-loved New York tradition.
To conclude the day, students had a two hour bus ride back to school where they arrived home after midnight. The bus ride was also a bonding experience: "I really feel like the cohort got closer than we would on any regular day at school," Ari Beal remarked and one student, Lachlan Northington, said the ride back was his favorite part of the trip.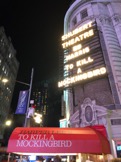 The IB New York trip has been a prized IB tradition for juniors and seniors to bond, so it comes with no surprise that it was a hit.
As junior Finn Glew stated, "being around fun people in an array of interesting activities made the trip worthwhile."