Harriton's First Showcase of the School Year
On Friday, December 6, the Harriton JSL was decorated with bright lights and buzzing with energy to ring in the first showcase of the school year. Organized by Harriton junior Finn Glew, students and teachers performed a variety of talents into the evening.
"The showcase is an opportunity for students to express themselves and share their talents with other people," said Glew. Parents and students alike were chatting, waiting for the show to begin, and enjoying pizza. As the sound check finished, junior John Bradbeer, the MC for the night, welcomed everyone.
Students Cameron Horshaw (freshman), Audrey Sigler (junior), Julia Youakim (freshman), Paige Mullen (junior) and Saige Torrisi (junior) sang for the audience. Many different song genres were represented and the audience was captivated through each performance. 
"I thought the singers and performers were great. It was a good place to show their talents," commented Evan Zales.
Performers Kiefer Wood (junior), Theo S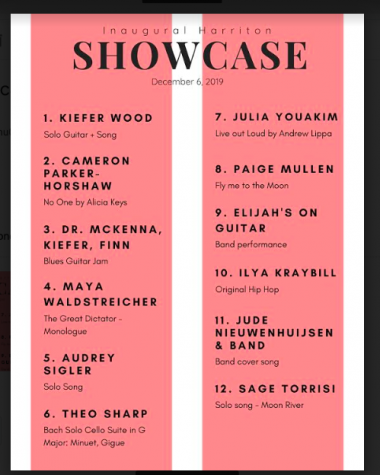 harp (senior) and Ilya Kraybill (junior) displayed their musical talents. Wood opened the show with two songs, Sharp played the cello and Kraybill DJ-ed and free-styled.
Maya Waldstreicher (junior), "Elijahs on Guitars," and Jude Nieuwenhuijsen and bandmates wooed the audience in other types of performances. Maya Waldstreicher's passionate speech left many of the audience members, including Ty Nagvajara, "on the edge of [their] seats."
Perhaps the most meaningful part of the showcase—besides its ability to spotlight talent—was how it brought together a community of students, teachers, and parents in creating an intimate environment to appreciate talent. After singing a piece from The Little Mermaid, Junior Audrey Sigler commented that the showcase was "truly a great way for everyone in the school to come together and display their talents in a casual and fun setting." 
The showcase proved that student talent is hidden all around Harriton High School. Organizer Finn Glew's goal for the showcase was for "people to share their talents with others" and have the "perfect opportunity for people to get a taste of the spotlight while simultaneously allowing room for mistakes and positive development." 
The inaugural showcase was a great start to creating a platform for the many talented students in Harriton, and those who were unable to attend this year's should not worry—there will be more showcases in months to come. Finn Glew is already planning and hopes to host the next showcase in the Blackbox theater.