The 2020 Model UN Conference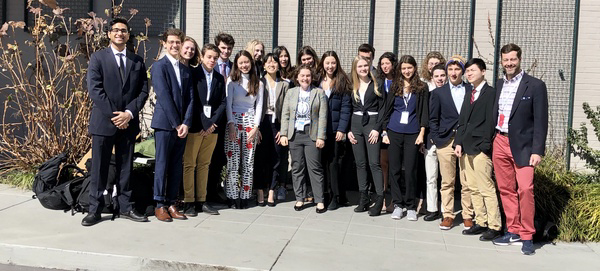 Harriton's Model United Nations team attended PhilMUN from February 27th through March 1st, 2020. During PhilMUN, the Philadelphia Model Union Nations, schools from across Pennsylvania and New Jersey came together in a simulated U.N. conference.
Harriton students returned with many awards. Dinah Day-Booth received the Distinguished Delegate award in the Permanent Forum on Indigenous Issues. Both Lucas Nelson, who represented Asian Pacific Security Summit, and Will Keelman, who represented the Imperial Japanese Cabinet, won the Outstanding Delegate Award.
Sammy Biglin and Enya Xiang competed in their first conferences, but that did not stop them from receiving the Most Improved Delegate Award, representing Indonesia in the Human Rights Council. Lastly, Guillaume Placidet and Alexander Yung achieved the Best Position Paper, representing the Philippines in the Nuclear Suppliers Group.
Students walked away with real life experiences, too. Junior Camille Furer said it "was interesting to see how I could connect what I was learning in class to my committee sessions!"
Harriton senior Ava Sack agreed and described the experience as helpful in terms of public speaking at a "higher level" and "applying our knowledge of global politics and foreign relations."
Other students, like club officer Guillaume Placidet, spoke about how "PhilMUN is the perfect opportunity for students like us to meet other students from all around the country and to experience first hand the workings of diplomacy and politics. It's amazing how much you can learn in the span of a couple hours!"
Despite the long conferences, Harriton students bonded during team breakfasts and dinners.
Mr. Warren, the advisor for Harriton Model UN, took the group on the trip. He reflected on the experience, stating that Harriton students "acted as model ambassadors for our school and for our community."
In addition, Doctor Amber Abbas, his spouse, gave a presentation about the conflict in Kashmir during one of the workshop sessions offered at the conference. The couple also brought along their daughter, Ruby.
The weekend took place in the heart of Old City, Philadelphia.
Hours were spent in committee sessions, where students portrayed diplomats. With multiple committee sessions each day, lasting several hours, students were busy giving speeches and collaborating with other student delegations, all while representing their nations' interests as accurately as possible.