A Look at the Student Body President Candidates
While many Harriton students are focused on how the 2019-2020 school year will be salvaged, the student council has begun to plan for next year's officers. For the first time, students will have to vote for their student body officers from the comfort of their homes.
This major difference has made it much more difficult for students to advertise their campaigns and policies, placing a strong emphasis on social media interactions. This year's three student body president candidates are Olivia Kim, Niosha Parvizi, and Andy Wu.
Whoever wins will become Harriton's first minority president in five years. To help students learn more about the officers and make a more educated choice, The Harriton Banner has conducted an interview with the candidates.
The Harriton Banner: Would you like to begin by introducing yourselves?
Olivia Kim: Hello, my name is Olivia Kim, and I'm extremely excited to be your next student body president. Since freshman year, I have been applying myself to our diverse community of clubs and extracurriculars and observing what I'd like to be changed. I am a co-founder and officer of Asian Culture Club, as well as an officer of Witness Inspire Act, two clubs which focus on improving the Harriton community through service and diversity. I hope to bring these ideals to the entire school if I'm elected. 
Niosha Parvizi: Hi, my name is Niosha Parvizi. I love to play golf, and I am Harriton golf's varsity captain for next year, making me the second female captain in 60 years. It is an honor to be a part of such an amazing team, and I am looking forward to growing a stronger community of athletes. 
Andy Wu: Hi everyone! My name is Andy Wu, and I'm basically your average Asian-American teen. I play the piano, I play tennis, I take AP classes, and here I am running for a position that would look good on a college application. I come from the mean streets of Penn Valley, and I've basically lived in this area my whole life. I went to Belmont Hills Elementary School, then Welsh Valley, and now Harriton. 
THB: What is one high school experience that has shaped you?
OK: My experience as a member of HTC has been really important to me. It's not a club that a lot of people know me for, but I've been in the hair and makeup department since I was a freshman. It really opened me up to meet a lot of new people. I think it's just a really good group of people.
NP: This year, I was the head choreographer of Dr. Harriton. Many of us had not known each other until Dr. Harriton practices started back in November, and by February, we were all so close. It was amazing to see all of us working together to deliver the best show yet. This experience is the reason I hope to improve the school community and students' relationships with one another. Harriton, let's work together to create a positive environment!
AW: The one high school experience that has had a major impact on who I am is without a doubt Dr. Harriton, just because of how fundamentally different it is from everything else you could do at Harriton. It's not really like a club because we aren't brought together from mutual interests, and it's also not really like a sport because we do more than just practice dancing. Dr. Harriton is a culmination of everything high school is about, from the hard work, to hanging out with people you would've never thought you'd be friends with. It has really brought me to appreciate my time at Harriton rather than just wanting to graduate and get to college. 
THB: What are some of your major goals as president?
OK: I want to increase environmental awareness and institute more green practices at Harriton, as well as the "lykkefaction" of Harriton. Also, I want to create a more diverse community with festivals and school-wide events. I want to set realistic goals and make promises I can keep. From experience working with administration, I can't promise things like more parking and off campus frees. The visions I have for my presidency are ones that will become reality.
NP: Off campus frees, off campus lunch, afternoon breakfast table, more parking for juniors, powderpuff (and other activities to boost school spirit), updated uniforms for sports, newer/more eco-friendly water fountains, and a new location for junior prom.
AW: If I become president, the two things that I think are both beneficial to the school and actually realistic to accomplish are building a better communication system, and transforming multiple areas throughout the school into a lounge style environment. I want to add an ideas submission page to the Harriton website to encourage students to share their thoughts. I think adding lounge areas to the school would not only give people a more enjoyable place to spend frees, but also create a more relaxed environment at the school so everyone doesn't just feel like they are enduring 7 hours of torture. 
THB: With the changing environment, do you hope to implement any initiatives that will make Harriton more eco-friendly?
OK: One of my main goals is to try to switch Harriton out of styrofoam and to open policy towards bringing your own tupperware and cups to use. Styrofoam is awful for the environment and very outdated; it is also not in line with Harriton's otherwise forward thinking green policies.
NP: I believe that Harriton's printers should be more eco-friendly. Students use the school's printers to print assignments, which is exactly what the printers should be used for. The issue is that many students print the same assignment numerous times, and in the end, they recycle half of the copies they printed. I hope to modify the printers, so that they deliver a message to the students before any print job. Hopefully, this message will eliminate any unnecessary print jobs… and that will lead to saving more paper!
AW:  Absolutely, I think it is important that we first make students aware of the ways in which they can be eco friendly, and then try to implement changes such as no longer using styrofoam trays in the cafeteria, and selling reusable mugs and bottles for beverages. I've also heard that foods classes can be wasteful with leftovers, and I would love to work to reduce the waste.
TN: What is one problem you see at Harriton and do you have a plan to fix it?
OK: One problem I see at Harriton is the lack of racial inclusivity. I think one way to address this is to implement 'implicit bias training' workshops, starting freshman year. In addition to more serious instruction, I think we could make learning about other cultures really fun. An annual Lunar New Year festival would be a great way to do so! I'd also love to see better activities for Black History Month; what we currently have in place for advisories is not at all enough. We need to bring in speakers and have more structured and informative activities.
NP: At school, in the afternoon, many students are starving. Occasionally, this hunger interferes with the students' abilities to focus in their classes. My goal is to open an afternoon breakfast table. This would allow for students to purchase food in the afternoon. Different clubs and sports teams could provide the food, so that these organizations are profiting. In the end, it's a win win for everyone!
AW: Not that I see it as a problem, but part of Harriton's culture, or at least for as long as I've been here, is that school spirit isn't really a thing. Whether we admit it or not, Harriton is one of the most amazing public schools in the country, both because of our wealth and amazing staff. Unfortunately, many of our sports aren't seen as "a big deal," and this is probably why spirit is usually low. However, after beating LM in every major sport this year, I think it would be good to try and raise school spirit by adding audience participation to pep rallies, adding more spirit events throughout the year in addition to MOTML and Dr. Harriton, and having a school-wide Harriton merch design contest!
THB: Why is this position important to you?
OK: It is important because I think there are a lot of issues at the school that go unnoticed and I'd like to make sure that everyone's problems are being heard. As president, I can promise I will work my hardest to achieve as much as possible for the student body. 
NP: This position is important to me for several reasons. First, I love Harriton and believe that we are extremely lucky to attend such an amazing school. That being said, in the past three years, I have noted various ways to improve our school community for both the students and the teachers. I will represent the students, ensuring that I listen to each and every one of their concerns. Working with the other officers, we would implement strategies to address the students' problems. Lastly, I will not stop until each and every one of you is satisfied with the school community. It is essential that we work together to build a positive and enjoyable environment. Harriton, I know we can do this!
AW: Honestly, a big reason this position is important to me is because I love public speaking. I just think there's something really fun about talking to a big crowd. Also, I think being president would allow me to not only work with a new group of people, but force me outside of my comfort zone, making me organize events I would otherwise never bother organizing, and reaching out to people I would otherwise never contact (this is my diplomatic answer if you couldn't tell). 
About the Writer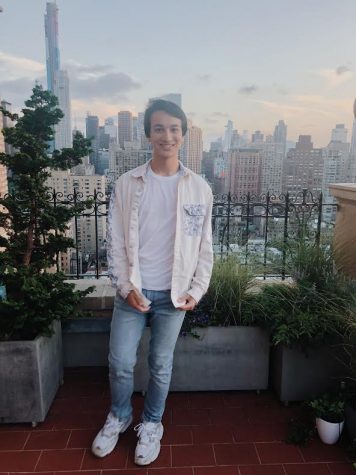 Ty Nagvajara, Executive Editor
Harriton senior Ty Nagvajara is very excited to become the Co-Executive Editor for The Harriton Banner this year. Last year he worked as the Arts &...